Oklahoma City's Steelwind to bring Bluegrass tunes to USAO
---
September 27, 2019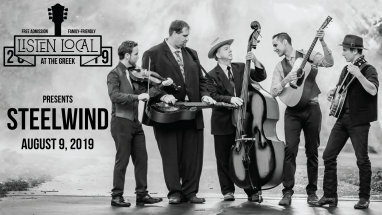 The tight harmonies and soulful instrumentation of the Oklahoma City-based bluegrass band Steelwind will bring the University of Science and Arts of Oklahoma Alumni Association's second annual Listen Local at The Greek concert series to a close Aug. 9. This free, outdoor concert begins at 7:30 p.m. at the university's Greek Theatre.
Born from the friendship of co-songwriters Blake Parks and Michael Henneberry, Steelwind continues to focus their creative energies on writing all-original bluegrass songs. The Oklahoma sextet has made a name for themselves performing everywhere from intimate listening rooms to major music festivals. Their debut album, "The Sound of a Train," came out in 2010 with their sophomore effort, "F5," following in 2016. They released their third album, "Blue," at the end of June this year.
"A lot of people see bluegrass as old-time music, but Steelwind proves that there is plenty of ground left to tread in the genre," said Misti McClellan, director of alumni development. "Steelwind uncovers ways to tell new stories and put modern inflections in their compositions, while still using the traditional instruments and high, lonesome vocals that have always defined the bluegrass sound."
Steelwind's main lineup consists of Blake Parks on fiddle and vocals, Michael Henneberry on guitar and vocals, Joel Parks on banjo and vocals, Adam Davis on dobro, Kenny Parks on upright bass and, joining the band this year, Becca Herrod on mandolin and vocals. Their influences span the whole range of recorded bluegrass music, from the 1930s to the present day.
Listen Local brings the long tradition of live entertainment back to the Greek Theatre, which was first constructed in 1923 as a memorial gift from the graduating class of the Oklahoma College for Women. The theatre served as a rustic performance space for classical drama near a small stream at the southeast corner of campus. After decades in the elements, the original wooden structure had deteriorated badly and, thanks to generous donors, a more robust replica was created in the same area.