Oklahoma Academy of Sciences Technical Meeting hosts four USAO students
---
December 18, 2019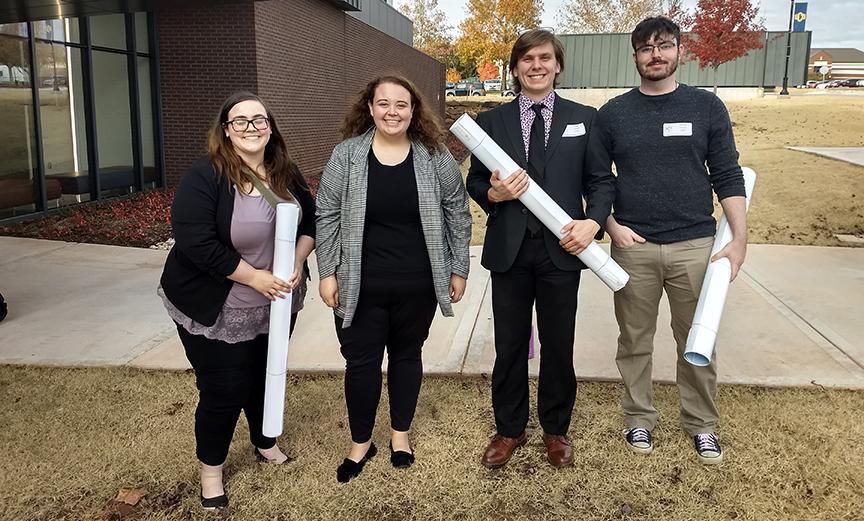 Four University of Science and Arts of Oklahoma students from a wide range of academic disciplines recently presented original research projects at the Oklahoma Academy of Sciences' 108th annual Technical Meeting at the University of Central Oklahoma.
Nick Campisi, Cody Corser and Erin Dunagan all presented posters of their projects, while Cassandra Poole presented her research orally.
"As part of USAO's Mentored Research Program, students are required to present their research at a professional conference," said Dr. Rachel Jones, associate professor of biology. "The OAS provides the perfect space for our students and also lets them view what other undergraduates are doing at universities across Oklahoma. Any of our students that intend on going to graduate school also get an idea of the kinds of research graduate students are doing."
Campisi, a biology and natural science major, developed his work, "Bat Diversity Surrounding Rural and Urban Bodies of Water," with Dr. Jason Shaw, associate professor of biology, as his research advisor.
A biology major who has previously presented at the meeting, Corser's conducted his research, "Investigation of Succession in a Short-Grass Prairie in Grady County, Oklahoma, USA," under Dr. Jones.
Dunagan, a deaf education major, produced her piece, "Prevalence of three tick-borne diseases in urban, peri-urban, rural areas of Chickasha, Oklahoma, USA," under the mentorship of Dr. Jones as well.
A history major, Poole discussed her project, "Demographic Investigation using Gravestone Analysis at Rose Hill Cemetery, Chickasha, Oklahoma," which was developed under Dr. Jones and Dr. Leah Oxenford.
The Oklahoma Academy of Science stimulates scientific research, promotes fraternal relationships among those engaged in scientific work in Oklahoma, spreads knowledge about the various scientific disciplines to Oklahoma citizens and investigates the material and educational resources of the state. Their Collegiate Academy allows undergraduates to present their original research at the fall technical meeting and receive a cash prizes for outstanding paper and poster.