Student Spotlight: Andi Turner
---
February 08, 2019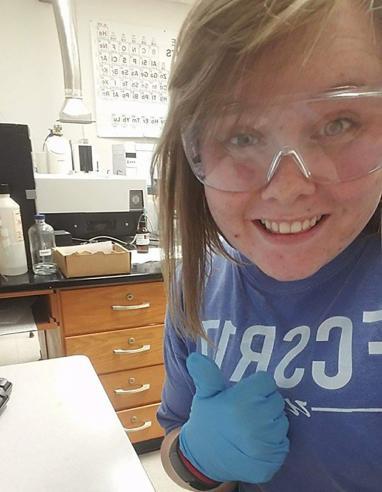 Andreanna "Andi" Turner is a chemistry, biology, and mathematics major from Moore, Oklahoma. She discovered USAO after travelling to the campus for Droverstock with her American Sign Language (ASL) class and instantly fell in love with the campus and the admissions staff, who quickly answered any questions she had about the university.
One of her favorite things about USAO is the close relationships she has with her professors. "They know who I am. Even professors that I only saw for a semester know who I am and greet me when I pass them," Turner said.
Originally, Turner wanted to use her chemistry degree to attend medical school; however, through USAO's interdisciplinary curriculum and hands-on approach to learning, she realized she liked being in the lab and analyzing experiments.
"I didn't want to be a doctor necessarily—at least not in the way of going to see patients every day and prescribing treatments to them that others had said would be their best bet," said Turner. "I wanted to be the person that was actively trying to find those methods and understand why the disability or disease was acting the way it was." That was the moment she decided to add biology and mathematics to her studies and begin a path towards becoming a clinical research chemist.
USAO has become a second home to Turner. She is the vice president of the ASL Club and the treasurer for the Sigma Psi Omega sorority. She also works as an RA, which is where she met one of her biggest mentors on campus, Bobbie Shores, director of housing.
"I can always count on stepping into her office and crying it out or sorting through the issue I'm having," said Turner. "She is someone who is just going to sit there, nod, listen and then offer sound advice or laughter when needed."
USAO has been a one-of-a-kind experience for Turner. "I would recommend USAO simply because you aren't a number here. You can go out and create something with any unique and creative mindset that you may have. The people here care enough to push you further and out of your comfort zone. That's something that I could never imagine not having."
Turner's projected graduation date is spring of 2022. She wants to become a clinical research chemist studying genetic and mental disabilities in children. She also hopes to encourage others to come to USAO by speaking about her times at the campus.