Student Spotlight: Arlette Melendez
---
March 25, 2019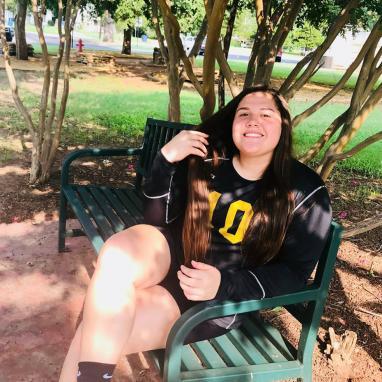 While college can be overwhelming when you're a freshman, Arlette Melendez has already become a leading woman at the University of Science and Arts of Oklahoma. Melendez is double majoring in business marketing and public policy as well as pursuing a minor in Spanish. Originally from Chihuahua, Mexico, she attended high school in Oklahoma City. She found USAO during a high school visit to the campus and immediately fell in love with the students, faculty and majors.
"One of my favorite things was how close I would be to my parent's house," said Melendez.
Melendez is a member of many student organizations on campus. She is the president and founder of the United Hispanic Council as well as a member of the Sodexo Student Board of Directors, the USAO Leadership Academy and a senator-at-large for the Student Government Association.
Melendez is also very active in sports. She is an outside hitter and setter for the volleyball team as well as a discus and shot put thrower for the track and field team. Melendez stepped out of her comfort zone to become the first female thrower in the history of USAO's track and field team.
"You can spend your life behind lines, or you can cross them," she said when asked about her decision.
Through her responsibilities on campus, Melendez hopes to improve her public speaking abilities.
"By being very involved on campus I have to put myself out there. I hope that, with the help of the United Hispanic Council, I will become a better public speaker while I run meetings and meet new people," she said. She also wants to run for higher positions in her other organizations to prove her credentials as a leader.
Melendez has quickly taken up the banner of leadership in her time at USAO. She recommends coming to the university not only for its affordability, but for the understanding teachers, amazing resources, and historical value the institution offers.
After her projected graduation date in Spring 2022, Melendez hopes to attend law school and become an immigration lawyer for undocumented families. Eventually, her goal is to run her own law firm. She says that being around different people every day has already helped her prepare for whatever the world throws at her. Melendez can't wait to see what the next three years have in store.