Student Spotlight: Autumn Mathis
---
September 27, 2019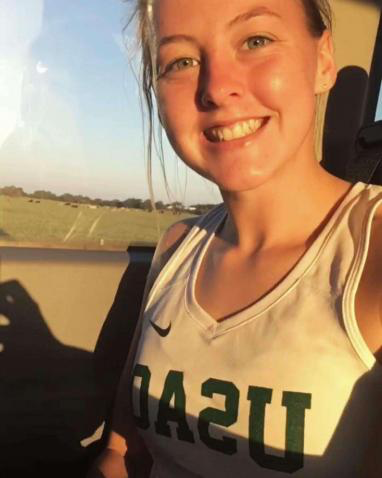 Education is the way we teach the next generation. For sophomore Autumn Mathis, teaching the next generation is what led her to pursue a degree at USAO. Initially drawn by its proximity to her hometown of Rush Springs, Mathis quickly fell in love with USAO's education program.
As a social studies and education major, she enjoys the path that she's walked during her time at our university, especially its close-knit community.
"I love that I can pass people on the sidewalks and know who they are. It makes me feel like I'm at home," said Mathis.
Always drawn to coaching and teaching, she ran with USAO's cross-country team in 2018. While on the team, Mathis felt that there was a need for a Christian-based athletic club on campus. That's why, in the spring of 2019, she formed the USAO chapter of the Fellowship of Christian Athletes. Mathis has hosted many meetings since then, inviting young and old to join her for food, fun, and fellowship.
"It helped me find my community on campus. I can praise God while meeting new friends and eating delicious food," she said.
Mathis hopes this service will continue to help expand her knowledge of how to teach and how to extend her message to others.
With a projected graduation date of 2022, Mathis aspires to become a teacher and a coach to inspire others much like her coaches did for her. She says her study skills and people skills have become much better by going to USAO.
"I'm a better, friendlier version of myself. College has helped me expand myself."