Student Spotlight: Holly Dunivan
---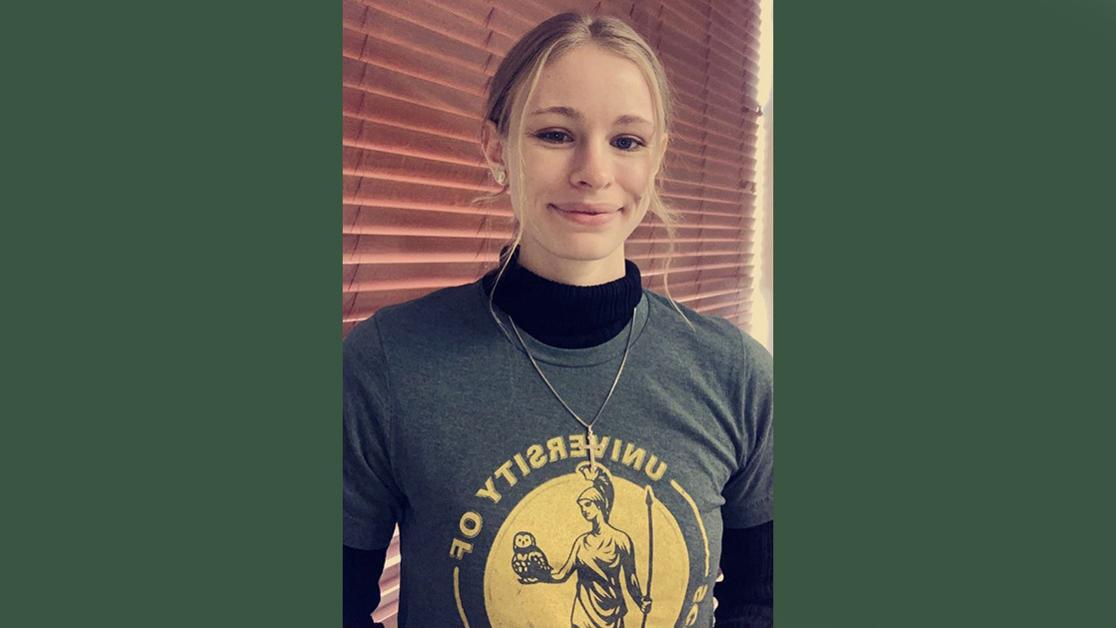 Though she grew up in nearby Bridge Creek, Holly Dunivan had never seen the University of Science & Arts of Oklahoma's historic campus until her junior year of high school when she visited to compete in the annual Scholastic Meet, part of the university's celebrated Spring Triad held each April. Now a business administration major with an emphasis in accounting and a tentative graduation date of spring 2024, Dunivan finds herself right at home at Oklahoma's public liberal arts university.
"I chose to pursue my degree here because I loved the small community environment," she said. "At USAO, it has been my experience that the professors are truly here to help the next generation succeed. The small class sizes allow for discussion and debate and professors' doors are almost always open to students outside of class. Additionally, the staff and administration work hard to give the very best experience to students. Even the heads of departments are open to assisting and guiding students."
Requiring a wide range of study in the traditional arts and sciences, the university's interdisciplinary studies (IDS) curriculum is designed to challenge every single student, regardless of their major, and Dunivan has found these challenges to preconceived beliefs and ideas an important part of building character.
"In my time at USAO, I have developed and grown not just academically—I have learned to think for myself and build sound reasoning," said Dunivan. "The great thing about the IDS courses here are that they challenge you to think for yourself and then defend it, while learning to listen and respect others. Challenges and adversity are a part of life, and I will face more in the future. I have learned to welcome it because I know that I will grow and learn something new."
After graduation, Dunivan plans to sit for the certified public accountant exam and pursue a career as a public accountant. While traditionally not seen as a profession requiring a great deal of interdisciplinary skills, Dunivan is keenly aware how the field has changed more recently, and she is confident that the skills she is gaining at USAO will set her up for success.
"Accounting has evolved past needing simple bean counters," she said. "The world of accounting now encompasses technology, economics and business analytics as well as accounting skills. To stay competitive, I have chosen to major in Business Administration and earn the 30 additional hours of upper division accounting credit to meet CPA exam requirements. This versatile degree path will provide better job security and give me a better understanding of the world of business."
Outside of the classroom, Dunivan is also gaining real-world experience working part-time in USAO' Office of Communication & Marketing as the receptionist, a position she has held for more than a year now. Her time in the office has also helped her find her biggest mentor on campus: Amy Goddard, director of communications and marketing.
"While she may not realize it, Amy has been an excellent boss and educator," said Dunivan. "She has set the example of a good work culture in the office. It is something I aspire to create wherever I may end up. Part of that culture is being able to come and ask question, not just about work, but about her field of expertise. I have learned so much in my time working here."
In her free time, Dunivan finds a release from the stresses of college life in the practice of Brazilian Jujitsu. Training at Empire Jujitsu in Moore, the discipline required to excel at martial arts has given her a more well-rounded perspective on her education as well.
"I strongly believe that it is important to have a hobby or activity that gives your mind a rest from the stresses of college," said Dunivan. "My freshman year I felt so bogged down mentally with schoolwork, but I had no outlet. That is when I decided that it was time for me to find a release. Since I have joined jujitsu, I am happier and in a better mindset to handle whatever college throws at me."
Though busy juggling the responsibilities of her coursework, job and martial arts training, Dunivan still makes time each day to reflect on how fortunate she is to have all of these opportunities available to her.
"I personally strive every day to wake up and be thankful," she said. "If you have taken any 8 a.m. classes on a Monday morning, you know that it can be tough to be thankful for being able to get out of bed. I do better at being thankful when I take a moment before starting my day and ending my day to reflect."