Student Spotlight: Joseph Flores
---
May 10, 2023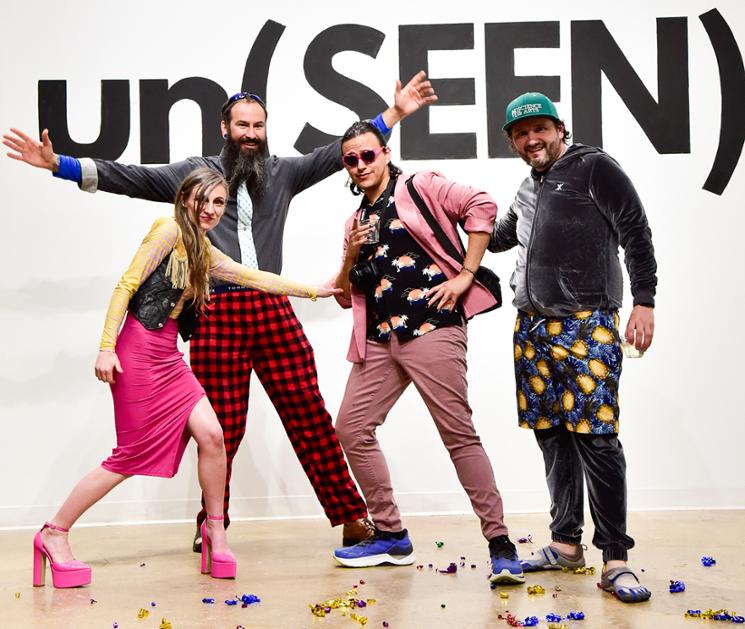 When it came time for Joseph Flores of Pauls Valley to choose a college, he was unsure of where to go. On the recommendation of his high school art teacher, he picked the University of Science & Arts of Oklahoma. Having recently completed a Bachelor of Fine Arts degree in the fall of 2022, Flores is the first generation in his family to earn a college degree, and he has never regretted choosing to pursue it at USAO.
As an artist, Flores finds the feeling of finishing a project he has conceived one of the most fulfilling aspects of his college experience. He recently led a team of student artists in the creation of a "barrel bull" sculpture that now graces the main entryway to Troutt Hall. Though there were "many hiccups and rollercoasters" on the way to completing this ambitious project, Flores is extremely proud to have spearheaded the work's completion.
Many of Flores' memories at USAO revolve around the art department and his fellow students working through rigorous criteria to earn their BFA.
"One of my favorite memories as a student was being up late in the Art Annex's courtyard with all my peers around the fire pit. We all worked in the annex studios, so taking a break to just relax and have fun was a nice memory of the good times," said Flores.
Though Flores remembers many different USAO faculty members very fondly, he names Jordan Vinyard, dean of the school of visual and performing arts, associate profess of art and director of Art Wrecker Studio, as "undoubtedly the one person that has changed my life."
"Many refer to her as the Gordon Ramsey of art, and that is the most accurate depiction of her," he said. "She does not shy away from telling the truth to the people who need it. Her teachings on work ethic, the art lifestyle and even regular stuff taught me to be more dependent on myself and to find the right people to surround myself with."
Flores' ability to take in these lessons were rewarded numerous times while he was a USAO student. In March of this year, he won first prize in the juried art exhibition "un(SEEN)" at Art Wrecker in historic downtown Chickasha. The show featured original works from regional artists that dealt with issues of inclusion and minority representation as they relate to concepts of equality, wealth, resilience, identity and opportunity.
Now that he has received his bachelor's degree, Flores plans to complete a Master of Fine Arts degree in the future, but he wants to continue creating while working towards that goal.
"I hope to reach a point in my life where I can both teach art on an academic level while also practicing it," he said.
The multifaceted character of USAO' curriculum ensured that Flores left the school prepared to solve the problems he will encounter in his personal and professional life. It has also strengthened his resolve to persevere through difficulties to reach the goals he has set for himself.
"In the time I spent at USAO, I went through failure, setbacks and harsh times. I learned from those experiences, and I managed to get out of my comfort zone, put in real effort, and push myself to complete whatever I set myself to do, whether it is art or not," said Flores. "Life in college is fascinating. It is the stage where you become the adult you'll be in life. The friendships and people that have an impact on you are irreplaceable. The lessons learned, whether through bad or good experiences, will set you straight for a good future, if you are willing to work towards it."