Student Spotlight: Katelin Robbins
---
February 09, 2022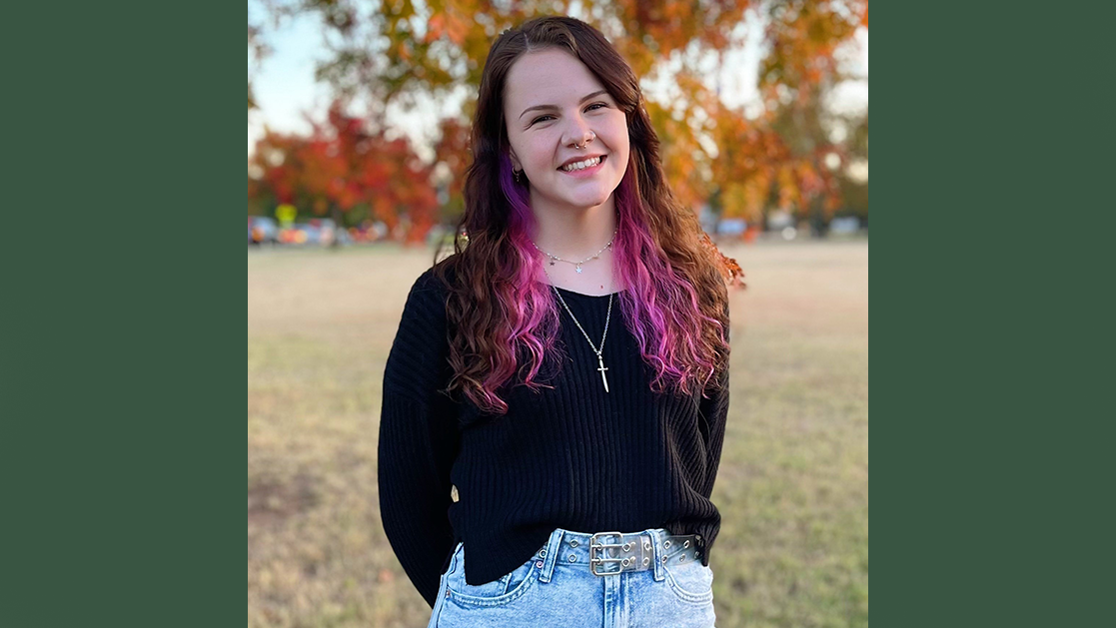 Moore native Kati Robbins first heard about the University of Science & Arts of Oklahoma when she received an email notifying her that her ACT score qualified her for the Regent's Baccalaureate Scholarship as well as waiving the application fee. Learning more about the teacher education program, she "instantly fell in love and decided that USAO was a great fit." Recalling her childhood dreams of becoming a teacher, she decided to major in elementary education and is set to graduate in spring 2023. Afterwards, Robbins plans to begin to her teaching career in central Oklahoma and then see "where life takes me from there."
Active in campus life, Robbins serves as a senator for the Education and Speech-Language Pathology Ward for the Student Government Association and as the Public Relations Chair of the Student Activities Board, both of which she credits with helping her meet new people and get more involved. She has enjoyed the challenge of becoming more independent, both personally and academically, as the self-directed nature of college classes require her to manage all her assignments and activities. To Robbins, USAO' intimate and interdisciplinary learning environment really sets the school apart from others in the region.
"Because USAO is so small, it really allows you to make connections with your professors, even those that do not teach in your major," she said. "Classes are relatively small and curiosity is encouraged, allowing you to explore questions that you may not be able to explore at bigger universities in bigger classes."
Robbins recommends the university "to basically anyone who will listen," and finds the required interdisciplinary studies curriculum and overall liberal arts mission to be "incredibly useful for real life communication and socialization skills." She also notes that tuition and fees are considerably more affordable than many other schools and that numerous scholarships are easily accessible to students of every major and background.
"There are so many routes for admission to USAO and so many systems in place to help you build your success," she said. "The professors are incredible, the people are friendly, and the offered majors can lead to a wide range of career paths. Coming to USAO is one of the best decisions I have ever made for myself!"
Though Robbins has thrived in the education department, she counts Kelli Monroe, associate director of student success at USAO' Student Success Center as her biggest mentor on campus.
"She is an inspiration to me because she is incredibly humble, kind and hard-working," said Robbins. "As I face challenges in pursuing my degree, she is always there to remind me to try my best and face them head-on, but also to understand that, if I try my best, I am still successful, no matter the outcome."
Part of the personal independence and growth that Robbins mentions includes not only facing the challenges of difficult coursework and a busy schedule, but also in "finding enjoyment in even the most mundane-seeming tasks." She finds that even something that appears rather dull can end up paying dividends once one lets go of their preconceptions and fully engages with it.
"Some courses may seem like they don't hold any value, but the truth is that every course at USAO will help you in some way, whether that relates to your major or your personal life," said Robbins. "Once you sit back and try to enjoy the piece you are reading or the topic you are researching, it doesn't really feel like work anymore."