Portrait of world-renowned OCW alumna hangs in U.S. Capitol
---
March 10, 2020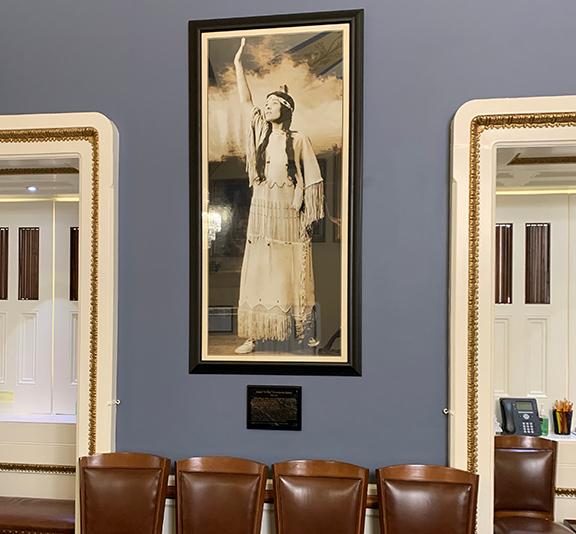 This remarkable photo of Te Ata Fisher, a Chickasaw cultural ambassador and alumna of the Oklahoma College for Women, is currently on loan to the United State House of Representatives Committee on Rules and is exhibited in their Hearing Room. A five-foot by three-foot reproduction of the original, the image was unveiled by during a hearing at the end of February Oklahoma Rep. Tom Cole, the committee's ranking member and a grandnephew of Te Ata herself.
Born in 1895 near Tishomingo, Mary Thompson "Te Ata" Fisher graduated from the OCW in 1919. During her time at the college, she worked as an assistant in the theatre department, where she was first introduced to the stage. After graduation she travelled across the country as part of a Chautauqua troupe and later performed in several Broadway productions. Drawing on her rich tribal heritage, she decided to focus her energies on one-woman performances of Native American material and became known the world over as a storyteller and a preserver of her people's culture.
Few Oklahomans have garnered as much attention as Te Ata, whose distinguished audiences included President Franklin D. Roosevelt and King George VI and Queen Elizabeth of England. Her career spanned more than 60 years and she collected hundreds of stories from many different tribes. She was inducted into the Oklahoma Hall of Fame in 1957 and was named the first State Treasure in 1987. She died in Oklahoma City in 1995 at the age of 99.