Science & Arts Take on Samuel D. Hunter's "The Whale" in fall theatre production
---
September 29, 2022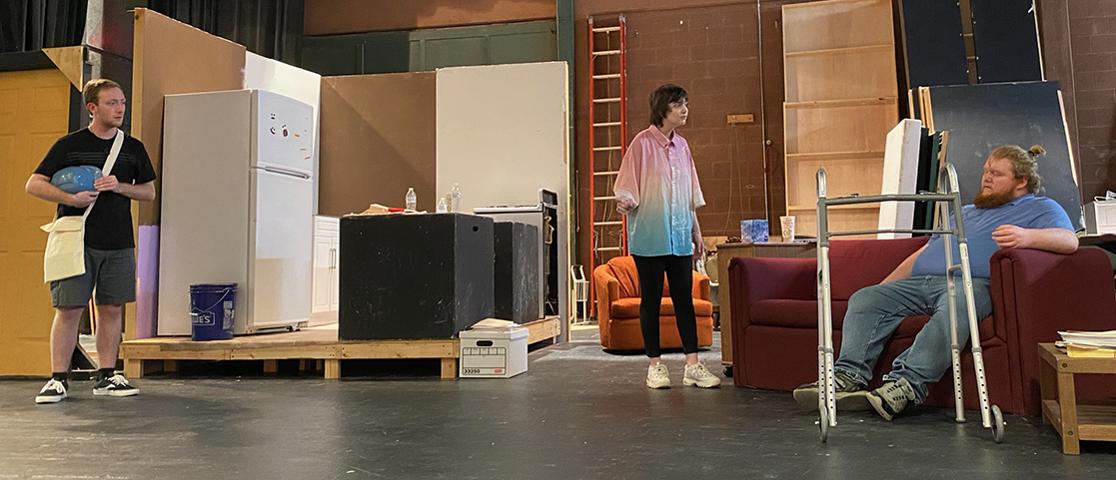 In the first production of the newly-created School of Visual and Performing Arts, the theatre arts department at the University of Science & Arts of Oklahoma will perform Samuel D. Hunter's "The Whale" Nov. 18-19 at 7:30 p.m. in the Davis Hall Little Theatre.
Recently released as a full-length feature film starring Brendan Fraser to critical acclaim at this year's Venice Film Festival, "The Whale" is about Charlie, a 600-pound, middle-aged, gay man, as he attempts to reconnect with his 17-year-old daughter. Supporting himself by teaching online writing courses and facing congestive heart failure, Charlie joins with a Mormon missionary and a nurse on a hero's journey that challenges audiences to see beyond their prejudice. The award-winning script uses imagery and ideas from "Moby Dick" and the Book of Jonah to illustrate a contemporary struggle with judgement, guilt and repentance.
"Each play that we perform is selected to support specific learning goals. Our theatre is our laboratory. This term, students are studying contemporary drama and will read more than 20 plays written in the past decade," said Katie Davis, professor of theatre arts, department coordinator and production director. "I was not surprised to see that this relatively new play was made into a film. It is relatable, emotional, and a great challenge for actors. Audiences will get the chance to see the script as it first was created for the stage in our production before the theatrical release of the film in December."
Samuel D. Hunter was born in Moscow, Idaho, in 1981 and his scripts contain aspects of his own life. His play "A Bright New Boise" received an Obie Award for playwriting in 2011. "The Whale," which premiered in 2012, received both a Drama Desk and Lucille Lortel Award the following year. Hunter received a fellowship, commonly known as a "Genius Grant," from the MacArthur Foundation in 2014.
"The Whale" will also be the first production with Jeff Taylor, assistant professor of theatre arts, helping bring the performance to life.
"We are thrilled to welcome Jeff back to the campus and our department," said Davis. "We need him more than ever, as we tackle the challenges of staging the spectacular world of this play. Our students studying lighting, set and sound design now have a terrific mentor and excellent instructor. So many work opportunities are opening in Oklahoma for well-trained professional technicians for film and the performing arts. We are increasing our ability to serve them while we prepare this play for the community to enjoy."
Science & Arts' theatre arts major is designed to introduce a diverse selection of the styles and forms of plays over the course of four years of study. Intimately connected to the university's interdisciplinary mission, the fall and spring productions feature a wide range of student experiential learning, from developing their acting skills in extended rehearsals to executing the behind-the-scenes skills of drafting, stagecraft, costuming, lighting and sound design. This fall's performance will explore prosthetics, sound design and the style of contemporary realism.