Theatre and Music students to bring life-changing decisions to the stage
---
April 09, 2019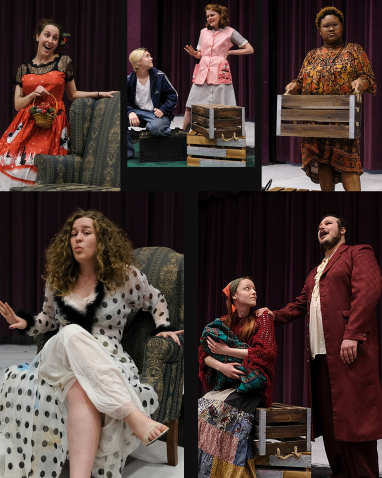 Students in the theatre arts and music programs at the University of Science and Arts of Oklahoma use each production as a laboratory to practice the core concepts and skills learned in the classroom. They invite the public to see their work April 12-13 at 7:30 p.m. in the Davis Hall Little Theatre when they present Jason Robert Brown's musical "Songs for a New World."
Tickets are $10 and will be available at the door.
"Using the implied characters and themes of this concept musical, we crafted two main stories featuring characters facing life-changing decisions and whose lives also impact each other," said Katie Davis, professor of theatre arts and production director. "These stories, political and personal, span more than 250 years of our country's history. The company represents the goals and conflicts of the American Dream: economic success, acceptance and civil rights, love and trust in relationships."
Featuring two music majors, the rest of the show's 18-person cast and 25-person crew comprises students majoring in theatre, English, communication, psychology and natural science. Brian Coburn, facilities manager and a USAO alumnus, provides the only professional staff support to a team of students working as master electrician, costumers, sound designer, props master and set crews.
Bringing over three decades of experience as a teacher and designer in Oklahoma City to USAO, Tom Harrington, adjunct instructor of design and technical director, serves as lighting and scene designer. Under the direction of Dr. Jan Hanson, professor of music, USAO alumna and pianist Rhenada Finch, student Jacob Blue and musicians from the community form the live band for the show.
Offering unique, interdisciplinary training that encourages students to build customized degrees that meet their career goals, USAO's music and theatre arts programs draw students from across the nation.