USAO theatre students hard at work on a diverse set of spring productions
---
February 22, 2022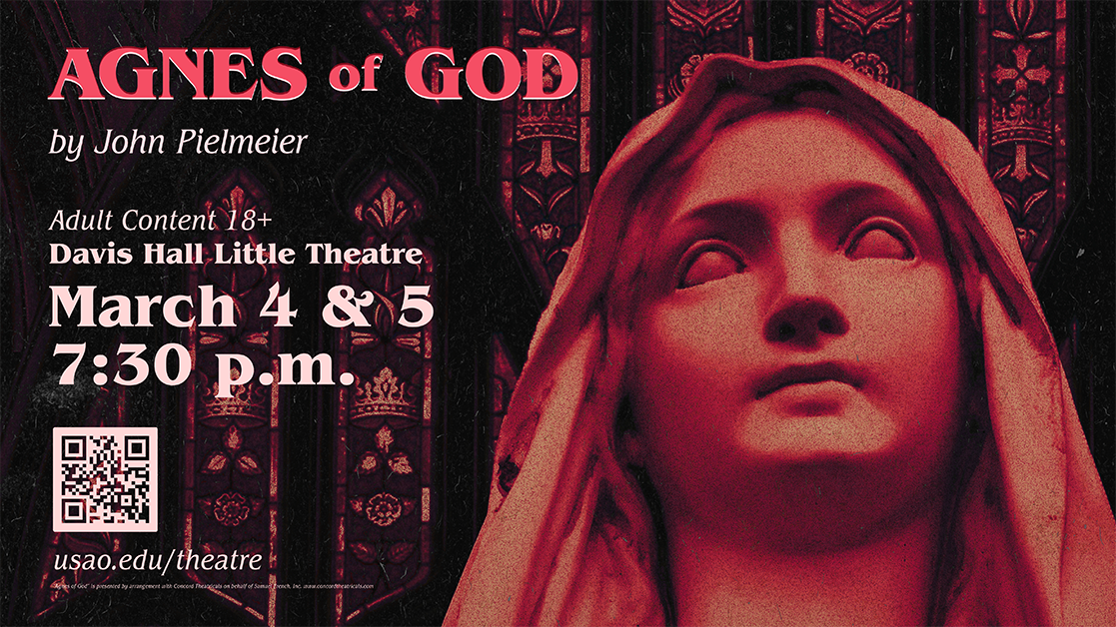 Students in the theatre arts department at the University of Science & Arts of Oklahoma are hard at work preparing for the spring 2022 season, which features three separate events from different artistic approaches.
First up is John Pielmeier's classic melodrama "Agnes of God" on March 4-5, followed by USAO' biennial Festival of One-Act Plays April 13-16, and the season will end with a one-night-only interactive performance of a work utilizing techniques from the Theatre of the Oppressed April 20. All performances will begin at 7:30 p.m. Tickets will be available at the door, and seating is limited due to the ongoing pandemic.
"Our students are thrilled to be working together on this range of productions. We're all learning about the best practices now followed by the performing arts industry and doing everything we can to make sure that the shows can go on," said Katie Davis, professor of theatre. "Actors in 'Agnes of God' are rehearsing with a full cast of understudies. The other groups are in their own pods. We are all masking, vaccinating and observing caution about distance. We want each audience to be confident about our care for their health when they take their seats."
Pielmeier's 1979 murder mystery—turned into a 1985 feature film starring Jane Fonda and Anne Bancroft—tells the story of a 21-year-old novice nun who unexpectedly gives birth and the resulting struggles between the mother superior of her convent and a court-appointed psychiatrist who is seeking answers. A work of modern realism, "Agnes of God" is restricted to mature audiences due to adult themes. This production has a content warning for sexual abuse, child abuse and infant death.
Held every other year, USAO' Festival of One-Act Plays gives students in the directing class hands-on experience in staging a short script of their choice as a capstone project. Each show is also supported by a student from the stage management class, taught this term by adjunct instructor and USAO alumna, Kasey Sams. Featuring six different plays in total, three works will be performed each night and audiences will have two opportunities to see each selection. This year, two directors who graduated in 2020, but had productions suspended because of the pandemic, will return to make their directorial debut alongside the four students in the class taught by Katie Davis.
Finally, as the final project for a class on the Theatre of the Oppressed, more than a dozen students and an audience will collaborate in a dramatic performance meant to help communities solve problems. A form that Brazilian practitioner Augusto Boal first created in the 1970s, the Theatre of the Oppressed facilitates dialogue on pertinent social topics with audiences sharing their experiences and opinions which the performers then act out. Audiences can stop the performance at any time and consider alternate ways that the conflict can be resolved. Adjunct instructor Brent Noel, faculty emeritus from Oklahoma City Community College, is teaching the course and coordinating this project for the USAO theatre program.
The USAO theatre arts department holds productions each fall and spring which support the interdisciplinary mission of the university. Students work in a broad range of theatrical styles, develop acting skills in extended rehearsals, and practice behind-the-scenes roles ranging from costuming and stagecraft to arts management. With its focus on applied theatre, this program graduates students with a thorough grasp of creative and communication skills required to stage a successful theatre production and the versatility to use this experience in a variety of career paths.