USAO' Art Wrecker Studios to host Tipsy Pottery event
---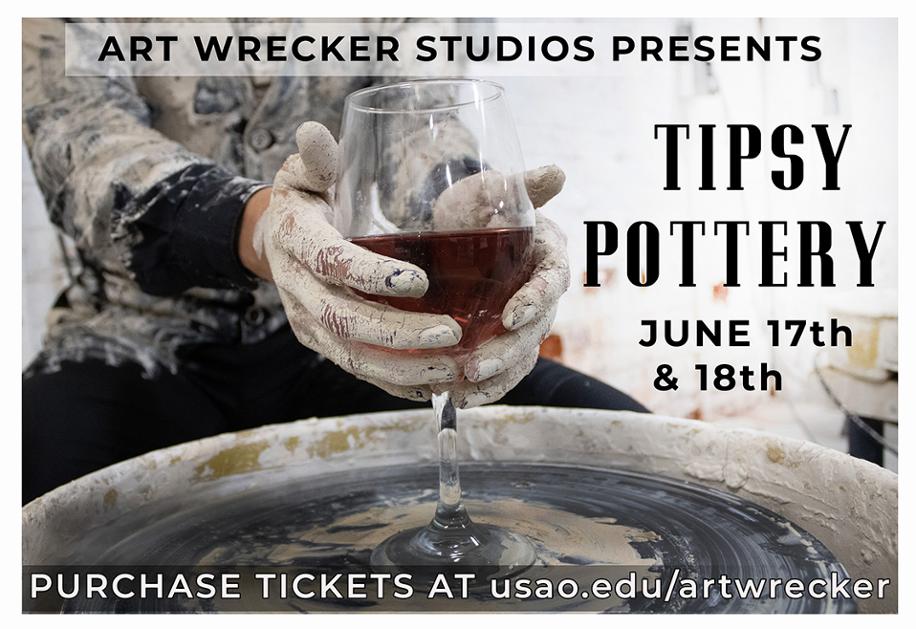 The University of Science & Arts of Oklahoma's Art Wrecker Studios, located at 222 W. Chickasha Ave. in the city's historic downtown, will host a Tipsy Pottery event June 17-18 open to adults 21 and over.
Both days will feature three sessions from 2–4 p.m., 5–7 p.m. and 8–10 p.m. with each limited to 10 participants. Tickets are $60 per person and include all necessary materials, workshop space and wine from Chickasha's very own Shakespeare Wine Company, who have generously sponsored this event in collaboration with the university. Tickets are available at usao.edu/artwrecker and will remain on sale until June 15.
"Art Wrecker is about exhilaration and exploration, for USAO students as well as for our wider community," said Jordan Vinyard, associate professor of art and gallery director. "I can't tell you how excited we are to have come together with another great local business to offer this opportunity for people in our area to learn new ways to express themselves in an especially fun atmosphere. This will be the first event of its kind at Art Wrecker, but we are eagerly looking forward to future partnerships on similarly awesome things very soon!"
Originally opened in May 2018, Art Wrecker Studios provides USAO students and faculty with a working studio and professional gallery space in Chickasha's historical downtown. Tying into the university's distinctive educational model, Art Wrecker represents diverse, interdisciplinary and hybridized forms of art that reach outside of general conceptions of what art is and can be.
For more information, contact Vinyard at 405-574-1301 or jvinyard@usao.edu.