USAO Homecoming continues digitally despite pandemic and power outages
---
November 10, 2020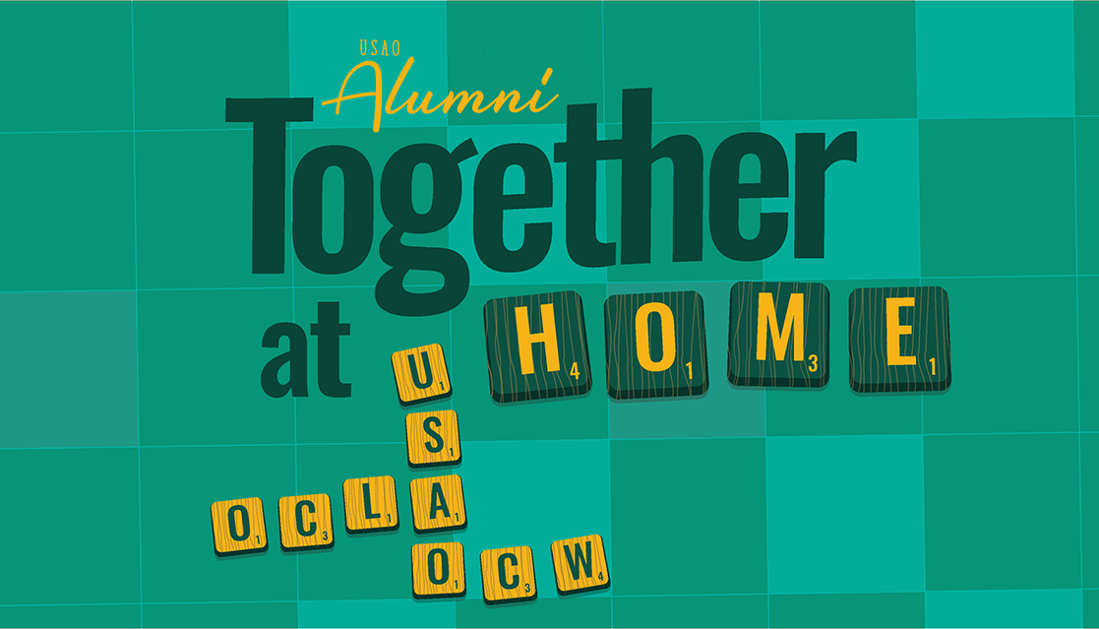 While the ongoing COVID-19 pandemic made an in-person homecoming celebration impossible this year, the University of Science and Arts of Oklahoma Alumni Association still found ways for its alumni to mingle and commemorate the lifelong friendships and educational experience that makes this institution so special. The 2020 theme, "Together at Home," invited Drovers from around to globe to join in a range of fun, free and fully online activities over the weekend of Nov. 6-7.
"Though I'm deeply saddened that we could not actually congregate on our beautiful campus this year, I'm still very excited that we were able to offer these virtual events," said Misti McClellan, director of alumni and community relations. "USAO prides itself on teaching students how to be adaptable to any situation, and this year has tested this ability in all of us. It means the world to me that we have found ways to continue our Homecoming traditions despite the many disruptions that 2020 has thrown our way. I can't wait to see where this energy leads us in 2021!"
USAO's 2020 Homecoming began the evening of Friday, Nov. 6, with virtual tours of campus, 20 percent discounts in the bookstore and livestreams of the men's and women's soccer games between the Drovers and Wayland Baptist University.
Besides the games, attendees also had the option of watching a video of one of the last in-person events at USAO before the pandemic: Votes for Women in the 21st Century: An Insider Perspective. Held Feb. 28 in recognition of the centennial of Oklahoma's ratification of the 19th Amendment, the university welcomed several of the state's most prominent female leaders to discuss 100 years of successes in the struggle for women's rights, the challenges they still face and the importance of women's voices in government. Panelists included State Representatives Emily Virgin and Cyndi Munson, Senator Carri Hicks, Labor Commissioner Leslie Osborn and Oklahoma City Councilwoman Nikki Nice. Award-winning National Public Radio political correspondent Mara Liasson served as the evening's keynote speaker.
Due to the record-setting October ice storm and the resultant power outages, a livestreamed Trivia Night was rescheduled to Nov. 20 at 7:30 p.m. With the pros at TriviaHub serving as hosts, teams will compete for both bragging rights and great prizes. Capacity is limited, so register as soon as possible at usao.edu/alumni.
Saturday's events began with a livestream of the USAO Alumni Association's awards ceremony and annual meeting. Besides inducting a new president and board of directors, the association also celebrated the 2020 inductee in the Alumni Hall of Fame, Jerry Bennett, and this year's recipient of the Outstanding Young Alumni Award, Jacob Alexander.
Since receiving his BFA in 1993, Bennett has cemented a reputation as the go-to illustrator in Oklahoma. He serves as the Oklahoma Illustrator Coordinator for the Society of Children's Book Writers and Illustrators, and his list of clients includes Lucasfilm, Marvel, Mattel and Dreamworks. In 2018-19, he was selected as the Paseo Arts Association's artist-in-residence at the Skirvin Hilton Hotel, which showcased comic art in a gallery setting and allowed guests to participate in creating comic art. Bennett is currently a nominee in the Oklahoma Gazette's annual Best Artist in OKC survey. Watch the Alumni Association's Hall of Fame induction video.
Alexander earned his bachelor's in Deaf education in 2014, a master's in 2019 and has continued to add national certifications to his impressive resumé. Currently, he serves as an early development specialist for the Oklahoma School for the Deaf, providing support services for the families of children with hearing loss. Previously, Alexander worked as an interpreter and adjunct instructor at OSU-OKC and as a special education coordinator with the OKC Public School System. Additionally, he served as an interpreter for the Teacher Walk Out in 2018 as well as for Gov. Stitt during recent COVID-19 briefings. Watch the video honoring Alexander.
This year's Homecoming was also the 60th anniversary celebration of the Oklahoma College for Women Class of 1960. While they could not come together in person, class members were busy sharing lots of old photos from their college days and other shots of reunions throughout the years. Watch the video honoring the Class of 1960.
The annual Alumni Memorial Service brought USAO's 2020 Homecoming to a close, honoring the alumni, faculty and students who are no longer with us. Watch the memorial service.
For more information, contact McClellan at mmcclellan@usao.edu or 405-574-1320.