USAO getting in gear for 2023 Spring Triad
---
March 22, 2023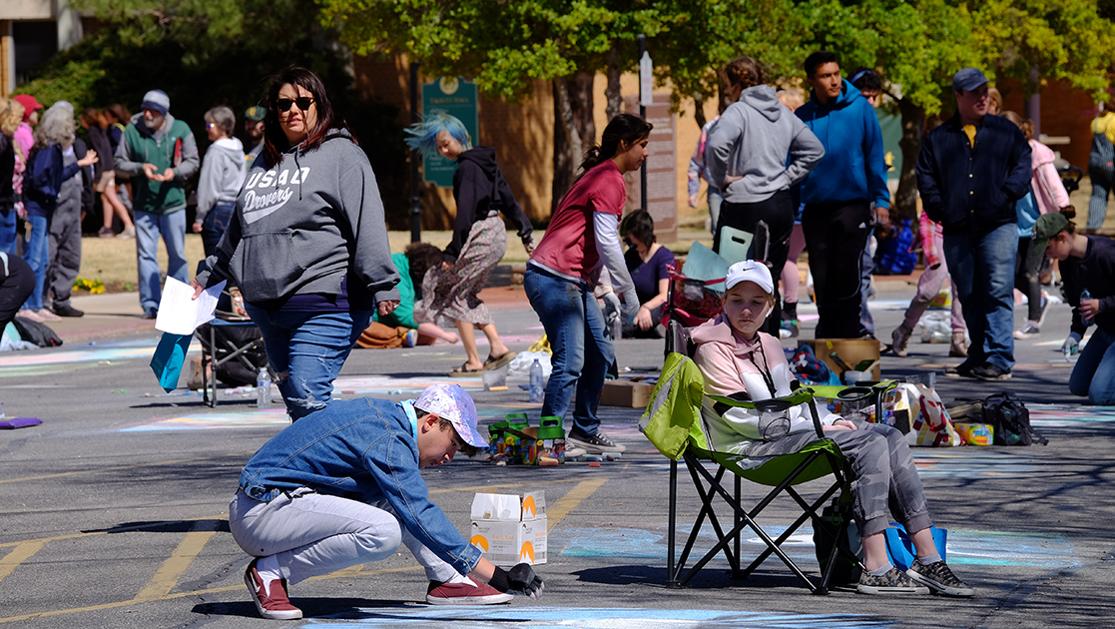 The University of Science & Arts of Oklahoma will host people from all across the state April 6 for the 2023 Spring Triad, the largest event held on campus annually.
Comprising of the Montmartre Chalk Art Festival, Droverstock Music Festival and Scholastic Meet, the triad gives the public a chance to explore USAO' historic campus, enjoy a spectacular variety of outdoor artwork, music, food, vendors, inflatables and other recreational activities over the course of the day. The university also invites high school juniors to visit campus for Junior Day from 9 a.m. – 1 p.m.
"For many years now, I have looked forward to the first Thursday in April as a time when this university opens its arms to so many people young and old and welcomes them to our beautiful campus to celebrate the power of learning and creativity," said President John Feaver. "When I look back at the impact our Spring Triad has had both for this institution and the surrounding area, I am immensely proud of everything we have accomplished, but I am also very eager to see this special day grow and evolve well into the future, as it seems to just get better every year."
Within the confines of a 6-foot by 6-foot square, the Montmartre Festival invites artists of all ages and skill levels to flex their creative muscles in water-based temporary chalk. USAO art alumni will judge each entry and winners will be announced at a ceremony in the early afternoon. Awards are given for Best in Show as well as Judges Choice in four age categories: elementary (grades 6 and below), junior high (grades 7-9), high school (grades 10-12) and college/adult. For more information and to register for the chalk art festival, visit usao.edu/montmartre.
A destination for bands from around the country and from many different genres, the Droverstock Music Festival provides the soundtrack for the day's events. This year's lineup includes TigerScouts, Tedious & Brief; the Committee on the Faculty Band, made up of current and former university faculty; Fox Royale; and stand-up comedian Cady Wollenberg. This year's event will also feature a "life raft" debate with seven USAO faculty where they will each make the case for why their discipline is the most crucial for the creation of a new society after a global disaster.
Droverstock will also feature a beer garden and a variety of food trucks such as A&J's Sweets, Some Like It Tot, Rock Island Candy Co., Jungle Ice, Lyn's Lumpia among others. Various inflatables, yard games and ultimate frisbee will also be available throughout the day.
During the Scholastic Meet, students from more than 40 regional high schools compete in more than two dozen subjects through tests written and proctored by USAO faculty. Awards are given to the three highest scores for each competition in two divisions, as well as to the schools with the highest number of individual medal winners. Schools can register for the Scholastic Meet at usao.edu/scholastic-meet.
Aimed at high school juniors beginning their search for a college that suits them, USAO' Junior Day lets potential Drovers learn about the institution's history and traditions, sit in a mock lecture with dynamic faculty and meet current students. Holding the event during the Spring Triad also gives students a chance to see the historic campus at its liveliest, letting them see what sets USAO apart from other universities. To register for Junior Day, visit usao.edu/juniorday.