USAO task force tackles common issues facing college students
---
September 27, 2019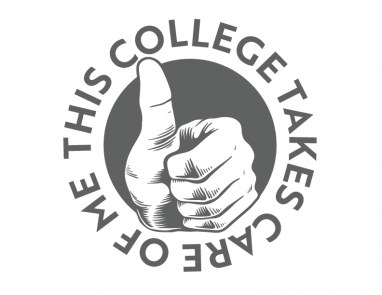 In an effort to make its students academically successful without having to worry about basic necessities, the University of Science and Arts of Oklahoma created a task force made up of staff to find ways to address pressing issues that many students face outside of their studies, such as food insecurities, clothing, and transportation services.
Known as This College Takes Care of Me Task Force, USAO President John Feaver commissioned the task force in 2017 to improve the university's food pantry. Since then, the group has introduced new services such as a biweekly free clothing closet and transportation services around Chickasha.
"After a survey revealed that 86 percent of USAO students agreed that such a service was needed on campus, the president put together a group of staff who interacted with students on a daily basis to assess their most pressing needs. The task force made an expansion of USAO's food pantry its first line of business." said Alexis Avery, head of student relations for the Neill-Wint Center for Neurodiversity and co-chair of This College Takes Care of Me Task Force.
Rebranded the Campus Co-op, it now provides students with a variety of available food items, as well as toiletries and other household necessities. Students can access the co-op with an ID during Lawson Clubhouse hours except Monday when the co-op is closed for restocking.
"Many of USAO's students are first generation college students or come from low income families," said Avery. "The Co-op provides supplemental assistance for students facing food insecurities, in turn helping them focus on their academics instead of worrying about where their next meal will come from."
Recently, the Co-op applied to become a partner agency with the Regional Food Bank of Oklahoma, which would provide a significant discount for food purchases among other benefits. During a campus visit, Dave Wattenbarger, community connections manager for southern Oklahoma, noted that over last few years colleges have been creating food pantries to assist the growing number of students who struggle to meet their nutritional needs.
"What would be one dollar at Wal-Mart, will be 18 cents if we can partner with the Regional Food Bank," said Avery. "The task force could purchase up to 100 pounds of food a month and the Regional Food Bank of Oklahoma will deliver it to a drop-off point in Chickasha. Being partners would also help give us more resources to share with individuals who might be in need and qualify for programs like WIC and SNAP. USAO is one of many college institutions in the state to team up with this great organization."
In addition to the Campus Co-op, This College Takes Care of Me Task Force began "Twice New Thrift" last year to provide free clothing to students. The types of clothes that are displayed are gently used seasonal clothes, as well as shoes, accessories and even children's clothes. Held every other week, the service has proved particularly beneficial to international students, many of whom do not have adequate clothing for Oklahoma's notoriously inconsistent weather.
"A year ago, we found out some of our international students did not have winter clothes," said Avery. "I asked around and realized that this was a more extensive issue in the student body, and one we could address. We have had amazing support from everyone on campus!"
The third major service that the task force is hoping to provide more of for USAO students is transportation to key locations in Chickasha. "Andrew Scott, of Baptist Collegiate Ministries, has been a huge help in providing rides for our students, along with everything else he does as a board member" said Avery. "We are really hoping to expand this service over the next couple of semesters."
Given the tight budgets facing public institutions, This College Takes Care of Me Task Force has no designated funding and relies on donations from the USAO faculty and staff, as well as from the general public, for every service it administers.
"Aside from some startup funds from President Feaver, everything we do is thanks to the generosity of our faculty, staff and community," said Avery. "We welcome any and every kind of donation: monetary, nonperishable food items, personal hygiene and household cleaning products, gently-used clothing or personal time to help volunteer."
As an alumna, Avery's personal experience at USAO both in and out of the classroom has strongly motivated her to improve the lives of other students.
"The types of issues the task force is tackling reflects the larger societal problem that is not just in Oklahoma," said Avery. "The liberal arts education I received from USAO focused on how supporting individuals within society benefits everyone. I am grateful to work in an environment where addressing issues on basic human necessities is on the forefront of the university's concern. Our goal is to improve students' academic success through helping them with access to food, clothes and transportation."
For more information, including specifics about donations, contact Avery at 405-574-1279 or aavery@usao.edu.