Victor and Penny to bring fiery folk-jazz to USAO
---
June 12, 2019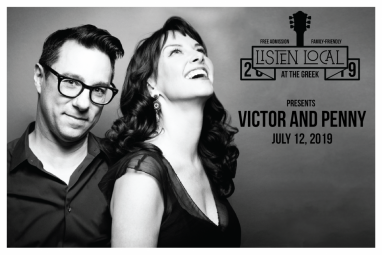 The University of Science and Arts of Oklahoma Alumni Association's second annual Listen Local at The Greek concert series continues on July 12 with the tight vocal harmonies, dazzling guitar work and fiery ukulele of Victor and Penny. This free, outdoor concert begins at 7:30 p.m. at USAO's Greek Theatre.
Known for their high energy performances, Victor and Penny deliver swing-infused folk-jazz with a combination of joy, humor and soaring improvisation. Paired with their virtuosic backing trio, Loose Change Orchestra, this Kansas City group's deft blend of originals and Prohibition-era tunes has electrified audiences for almost a decade.
"It's very important to us that Listen Local showcases bands from a variety of genres," said Misti McClellan, director of alumni development. "Victor and Penny offer something truly unique that we know that our audience will find exhilarating. They have an uncanny ability to blend the down-to-earth intimacy of folk music with the superlative musicianship that is a cornerstone of jazz."
Victor and Penny's primary members are Jeff Freling and Erin McGrane. Known for his work with the Blue Man Group and Chicago, Freling studied at Berklee School of Music and Kansas City Conservatory of Music. McGrane has performed with the cabaret troupe Alacartoona, acted alongside George Clooney in 2009's "Up in the Air" and published a book of poetry. The Loose Change Orchestra comprises reed virtuoso James Isaac, bassist Rick Willoughby and multi-instrumentalist Kyle Dahlquist.
Listen Local brings the long tradition of live entertainment back to the Greek Theatre, which was first constructed in 1923 as a memorial gift from the graduating class of the Oklahoma College for Women. The theatre served as a rustic performance space for classical drama near a small stream at the southeast corner of campus. After decades in the elements, the original wooden structure had deteriorated badly and, thanks to generous donors, a more robust replica was created in the same area.
For more information, visit usao.edu/listenlocal or contact McClellan at 405-574-1320 or mmcclellan@usao.edu.