USAO's spring 2020 virtual commencement honors 114 graduates
---
May 27, 2020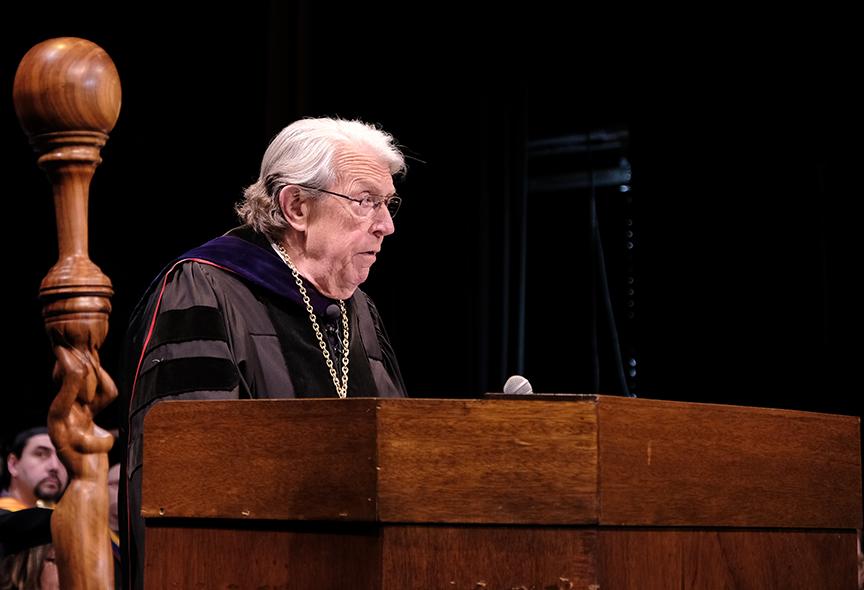 While the University of Science and Arts of Oklahoma's spring 2020 term was deeply affected by the sudden emergence of COVID-19, the institution leveraged technology so that graduates of the spring 2020 term could still have their achievements publicly recognized during a virtual commencement ceremony held May 22.
In addition to a highlight reel for each individual graduate, the virtual commencement program had all the features of USAO's traditional ceremony, including an address to the class from President Feaver, the presentation of the Outstanding Graduate Awards for each of the university's four academic divisions, the hooding of participants in the Mentored Research Program and the presentation of the Alumni Association's Distinguished Graduate Award.
"While it pains me greatly that I cannot be there to shake each and every graduate's hand as they cross the stage in Te Ata Auditorium, I am grateful that we have still found a way to honor these bright young minds," said USAO President John Feaver. "Our university prides itself on teaching our students to think critically and to be adaptable to changing situations, so, despite the unprecedented crisis we now find ourselves in, I know that these graduates now possess an incredible array of tools which they can put to work towards building a brighter tomorrow."
Rebekah Willoughby, who graduated with a degree in music and sociology, provided the ceremony's special music: an arrangement of Andrew Gold's "Thank You for Being a Friend."
Nationally ranked for quality and value, for over a century USAO has remained committed to providing a broad and accessible undergraduate education as the state's only public liberal arts college.
The university awarded 71 Bachelor of Science degrees, 35 Bachelor of Arts degrees and eight Bachelor of Fine Arts degrees during the May 22 ceremony.
Bachelor of Arts
Hayley Allen
Jaime Allred
Shevon Blair
Jacob Blue
Baylee Bozarth
Sean Brown
Jaiden Campbell
Cora Clegg
Hannah Cook
Colt Ferguson
Emily Hoebing
Isabella Hurst
Daniel Jones
Lynsey Karraker
Denise Kimball
Boniface Kiptoo
Summer Laurick
Deanie Lucero
Sylvia McClanahan
Tale' McKinzie
Kyra Merchen
Je'Ree Mitchell
Morgan Montgomery
Corey Pritchard
Joseph Quickle
Emily Rand
Alexia Robbins
Ian Shofner
Leah Sweet
Kylee Vancoevering
Jorian Vaught
Dominique Washington
Brenna Willie
Rebekah Willoughby
Emma Wilson
Bachelor of Science
Hannah Allison
Rebekah Alston
Reyna Ammons
Reilly Anderson
Angela Apauty
Taylor Baugh
Cassidy Bennett
Donna Bitsche
Robert BlueBack Jr.
Destiny Bolles
Kylee Bryen
Roshae Burrell
Nadorjaye Cage
Nicholas Campisi
Hannah Carpenter
Kelly Carpenter
Carmelita Carson
Kylea Caughman
Dylan Causwell
Pau Celma
Willie Clark
Dakota Clouse
Cody Corser
Tiffany Hood
Kamri Dickson
Michelle Duarte
Erin Dunagan
Treyber Ferguson
Lauren Fixico
Hannah Freeman
Christopher Garcia
Seny Gueye
Justin Hasek
Randa Hatter
Kaitlyn Hodgins
Adrian Hughes
Morgan Jackson
Carly Jenne
Amber Johnson
Pierce Jones
Melia Kane
Jasa Lightfoot
Morgan Loud
Haddon McIntosh
Kadie McLemore
Kira Derr
Kime Newborn
Chandler Nichols
Tania Olivas
Cassidy Pannell
Jaci Peoples
Hope Radtke
Grant Ray
Alexander Rimmer
Glen Shoemake
Jazmyn Short
Andre's Slaughter
Jeffery Smith
Kaylee Smith
Shelby Strangfeld
Edgar Tafoya-Acosta
Blake Tasos
Tania Thrash-Jackson
Caleb Townley
Andreanna Turner
Starling Valera
Zachary Waldroup
Syrena Wallenberg
John Warden
James Weidenmaier
Colline Xiong
Bachelor of Fine Arts
Taylor Bauman
Logan Clark
Ashley Glandon
Bailey Johnson
Araina Leatherock
Eduardo Martinez
Shequtta McCaskill
Duncan Payne
Faculty-Mentored Research Program
The following students produced original research projects suitable for conference presentation and/or professional publication under the mentorship of USAO faculty:
Robert BlueBack
Kylea Caughman
Cora Clegg
Cody Corser
Erin Dunagan
Hannah Freeman
Edgar Tafoya
Andreanna Turner
Emma Wilson
The USAO Faculty Association honored these students with Outstanding Graduate Awards:
Morgan Montgomery for the Division of Arts and Humanities
Haddon McIntosh and Andreanna Turner for the Division of Science and Physical Education
Kylea Caughman and Hannah Freeman for the Division of Social Sciences and Business
Erin Dunagan for the Division of Education and Speech-Language Pathology
Distinguished Graduate Award
Chris Collins, president of the USAO Alumni Association, presented the Association's Distinguished Graduate Award to Hannah Freeman, who graduated summa cum laude with a bachelor of science degree in psychology.