Nesbitt Gallery to exhibit William Stoehr's "Victims, Witnesses, and Survivors"
---
July 12, 2019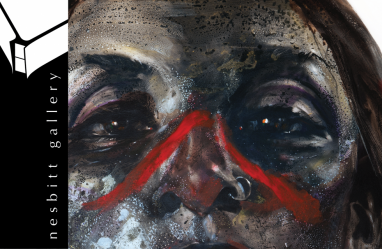 The University of Science and Arts of Oklahoma's Nesbitt Gallery will feature painter William Stoehr's powerful portraits in "Victims, Witnesses, and Survivors." The gallery will host an opening reception with the artist June 8 at 6:30 p.m. that is free and open to the public. The exhibit will remain on display until Aug. 2.
Focusing on large portraits, Stoehr starts with an ambiguous expression, shared gaze and uncertain context calculated to provoke the viewer into creating a narrative. He uses a limited pallet of acrylic paint along with metallic and iridescent colors to produce patterns that change with lighting and perspective. Stoehr experiments with the amount and type of information required to evoke an image and to find those characteristics that cause an emotional response to the portrait.
"Many, if not most, of my social media followers are from regions wracked by violence and discrimination," said Stoehr. "A Syrian woman in a refugee camp wrote to tell me that after seeing one of my painting that she knew I understood her and that she wanted to die. She went on to say that the next morning, she looked at the same painting and saw hope in the woman's eyes. She said she knew then that she too could have hope. She told me that I saved her life. That is why I paint."
Beginning with a live model and then working from photographs, Stoehr suggests certain features and realistically depicts others, freely dipping, brushing, pouring, scrubbing and scraping paint and allowing accidents to influence his creative process. Shown in universities, art galleries and museums around the world, his art has also drawn the attention of local, national and international media. In addition to his exhibit at USAO, art shows in London, Colorado and Kuwait will also feature Stoehr's works this year.
Born in Burlington, Wis., in 1948, Stoehr decided he wanted to be an artist at 16, drawing inspiration from Willem de Kooning's abstract expressionist works. He ended up as an engineer, and ultimately president, of National Geographic's worldwide mapping business. After four decades, Stoehr retired in 2004 to become a full-time artist. He currently lives in Boulder, Colo., with his wife Mary Kay.