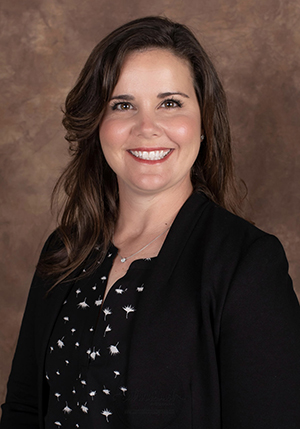 Sulphur pharmacist and rancher, Amanda Conley, was appointed by Gov. Kevin Stitt to the University of Science & Arts of Oklahoma Board of Regents in 2023.
A fifth-generation cattle breeder, Amanda Conley, her husband Kyle, and their two sons Case and Jack have owned and operated Conley Cattle since 2006, raising Angus cows and winning awards across the country.
Outside of the ranch, Conley works as a contract pharmacist for the Chickasaw Nation, having earned a bachelor's degree in biochemistry and molecular biology from Oklahoma State University and a Doctor of Pharmacy from the University of Oklahoma. Previously, she managed the Sovereign Pharmacy and served as assistant manager of the outpatient pharmacy at the Chickasaw Nation Medical Center, and is currently a board member for Arbuckle Memorial Hospital.
The Oklahoma State Legislature created USAO' seven-member Board of Regents to govern the institution as it carries out its distinct mission as the only public liberal arts institution within Oklahoma's higher education system. The governor appoints each member to overlapping seven-year terms with the advice and consent of the Oklahoma Senate.