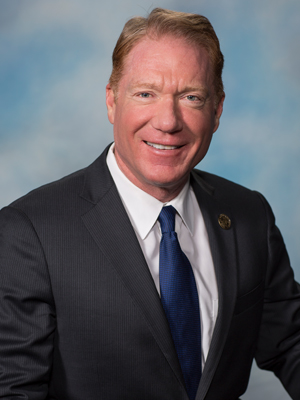 Bill G. Lance, Jr., was appointed by Governor Mary Fallin to the USAO Board of Regents in 2013.
Lance has served as CEO of the Chickasaw Nation's Department of Commerce (CNDC) since April of 2009. In that capacity, he is responsible for the management of all commercial business enterprises of the Chickasaw Nation. The CNDC has more than 6,500 employees spanning more than 60 businesses.
Lance serves on the board of directors for several other businesses, including Global Gaming Solutions, LLC; RSE Enterprises, Inc.; and Chickasaw Nation Industries.
He is a Fellow of the American College of Healthcare Executives and a member of Leadership Oklahoma Class XXIV.
He holds several professional memberships, including American College of Healthcare Executives, East Central Blood Institute Board of Directors, Children's Hospital Foundation Board of Directors, America Hospital Association and the Oklahoma Hospital Association.
Lance previously was the administrator of the Chickasaw Nation Health System, which consists of several facilities and clinics. There, he managed more than 500 employees with an operating budget of more than $77 million.
Together with Chickasaw Nation Gov. Bill Anoatubby, Lance oversaw the historic construction of the 370,000 square foot Chickasaw Nation Media Center near Ada.
Lance received a master's of public health from the University of Oklahoma College of Public Health and a bachelor's degree in nursing from East Central University.
He lives in Sulpher, Oklahoma.