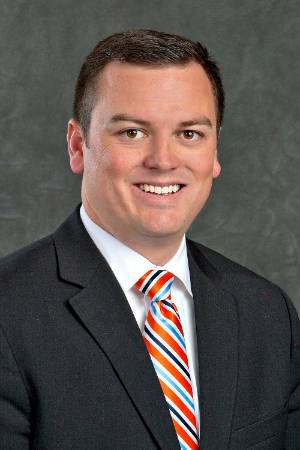 Financial advisor Cale Walker was appointed by Gov. Kevin Stitt to the Science & Arts Board of Regents in 2019.
"Science & Arts is one of four institutions in Oklahoma with a statewide mission," said President John Feaver. "Our institution can only fulfill its distinct role as Oklahoma's public liberal arts university and continue to grow our distinguished reputation thanks to the essential, often difficult, work that our regents never fail to approach with tenacity, pragmatism and an absolute dedication to seeing this university succeed. Cale brings a wealth of energy and ideas that will help us continue Science & Arts's success."
Walker received a Bachelor of Science in agriculture leadership from Oklahoma State University. He went on to work as a legislative assistant for the Oklahoma House of Representatives and as a field representative for United States Senator Jim Inhofe before becoming a financial advisor with Edward Jones in 2014.
He is active in the community, serving on the Chickasha Public Schools Advisory Committee for Gifted and Talented Education, Salvation Army of Grady and Caddo counties, Chickasha Economic Development Council Sales Tax Oversight Committee, and Grady County Oklahoma State University Alumni Association.
Walker and his wife Mindy reside in Chickasha with their three children.