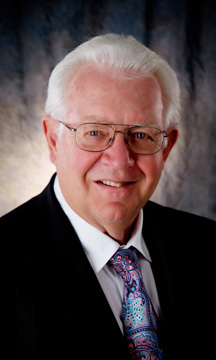 Entrepreneur David McLaughlin, co-founder of Advance Food, a global company, was named by Gov. Brad Henry to the USAO Board of Regents in 2010.
Founded in 1973 by Paul Allen and David McLaughlin in Enid, Advance Food manufactures beef, pork, veal, chicken and turkey products used in restaurants, business and industry foodservice venues across America and abroad. Later they created Advance Brands, a joint venture formed in 2001 with Cargill Meat Solutions to meet new markets. In 2010, the two firms merged with Pierre Foods, another global food company that manufactures 1,000 different products. The firm is now known as Advance Pierre Foods, Inc.
McLaughlin is a graduate of Macalester College in Minnesota, one of the nation's leading private liberal arts colleges. "I understand that global perspectives don't start with a narrow curriculum and a small mindset," McLaughlin said. "USAO serves a key niche in Oklahoma higher education, providing a nationally acclaimed liberal arts curriculum and campus experience. I am delighted to serve."
Married to Jean McLaughlin, they live in Oklahoma City and have two sons and two daughters. His sons are top executives in Advance Food and one daughter owns a food company in Texas that exports internationally.