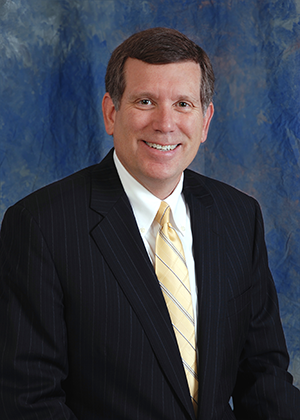 Tom Cordell was appointed by Gov. Mary Fallin to the University of Science & Arts of Oklahoma Board of Regents in 2017.
Cordell obtained his undergraduate degree in English Literature from Oklahoma State University in 1976, and his juris doctorate from the University of Idaho in 1979. He was admitted to practice law in Oklahoma in 1979.
From 1979-81, Cordell served as an assistant district attorney. In 1981, he joined the law firm of Huckaby, Fleming & Frailey, and became a partner in 1985. Currently, he practices as a senior partner in the Chickasha law firm of Frailey, Chaffin, Cordell, Perryman & Sterkel in all facets of tort litigation, focusing on complex tort and commercial litigation, premises liability, products liability, auto liability, oil and gas litigation, bad faith, and insurance defense and coverage litigation.
In 2010 Cordell became the president of the Federation of Defense & Corporate Counsel, an international organization founded in 1936 to further the principles of knowledge, justice and fellowship in connection with professionals involved with the defense of civil litigation. The FDCC, composed of recognized leaders in the legal community who have achieved professional distinction, is dedicated to promoting knowledge, fellowship and professionalism of its members as they pursue the course of a balanced justice system and represent those in need of a defense in civil lawsuits.
Cordell has served as president, vice president and member of the board of directors of the Oklahoma Association of Defense Counsel. He has served as the chair of the Insurance Section of the OBA; and served on the Board of Directors for Defense Research Institute. Cordell has also served as the president of Lawyers for Civil Justice, a partnership of defense bar practitioners and corporate counsel from some of the most highly recognized names in the corporate world, representing a wide range of industries including pharmaceuticals, insurance, manufacturing, oil and gas, and others. LCJ focuses on maintaining balance and relevance in the civil justice system.
Cordell is a member of the Order of the Barristers. He is also a recipient of the Maurice Merrill Golden Quill Award, given by the Oklahoma Bar Association annually for the outstanding published article in the Oklahoma Bar Journal, and has received the Defense Research Institute's Exceptional Performance Award. He speaks regularly on topics of litigation, trial practice, ethics, premises liability, and insurance coverage to various legal organizations, trade groups, and companies.
Cordell previously served USAO as a regent and on the board of the USAO Foundation.