Caridad Svich, playwright, describes her new play, Desdemona's Child (blood cry), as written "in the wake of Othello." In the fall term 2020, students of the USAO Theatre Arts course "Seminar in Dramatic Literature: Tudor and Stuart Drama" will present a live reading so that audiences can experience Shakespeare's story in anticipation of the online production of Svich's play.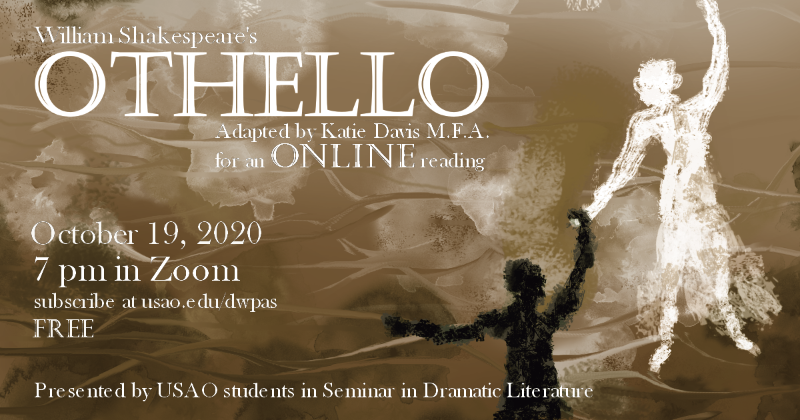 OCTOBER 19, 2020 | 7 p.m.
register by 2 p.m. october 19
A company of fourteen students joined by five alumni of the theatre arts program will read an abridged version of the play, live online in a zoom webinar. This new adaptation of the play is by Katie Davis, MFA with support from recent USAO graduate Emma Rose Kraus who is currently pursuing her MFA in Dramaturgy of Renaissance works at Mary Baldwin University.
This student directed and produced reader's theatre production will be presented on October 19, 2020 at 7:00pm online only. For meeting information and password, please email Katie Davis, professor of theatre arts, at kdavis@usao.edu.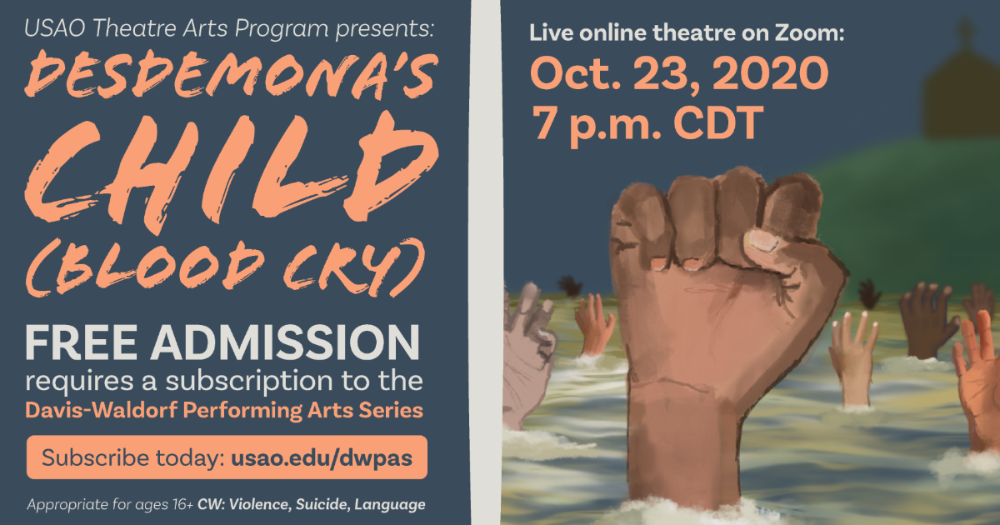 OCTOBER 23, 2020 | 7 P.M.
register by 2 p.m. october 23
Students and Alumni of the theatre arts program will present their fall performance in Live, Online Video on one night only. DWPAS audiences are invited to experience the Oklahoma premiere of this new play, a contemporary sequel to Othello that examines the enduring legacy of prejudice and trauma in a world where Shakespeare's world crosses with our own. The cast and crew will hold a behind-the-scenes conversation with the audience after the performance, hosted by guest dramaturg, USAO alumna Cynthia Cunningham, M.F.A.
Content Warning: domestic violence, police violence, suicide, lynching and hate crimes, adult language
This production is recommended for audiences over 16 years old.