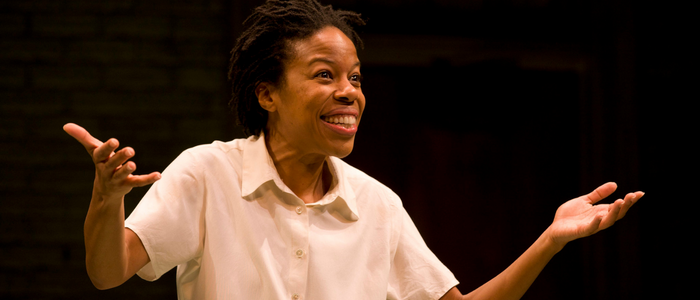 Nilaja Sun
January 26, 2023 | 7:30 p.m. | Te Ata Memorial Auditorium
Nilaja Sun is an award-winning actor recognized for her work in film, television (Law & Order: SVU, 30 Rock), and the stage. She has written six plays, including No Child...which was commissioned and produced by Epic Theatre Ensemble. For her creation and performance of No Child... and its subsequent national tour, Nilaja garnered 21 awards including: an Obie Award, a Lucille Lortel Award, two Outer Critics Circle Awards (including the John Gassner Playwriting Award for Outstanding New American Play), a Theatre World Award, the Helen Hayes Award, two NAACP Theatre Awards, and was awarded the soloNOVA Award for Artist of the Year by terraNOVA Collective.
In this one-act, solo performance, Sun plays all of the characters connected with a story based on her own spiritual experience as a teaching artist in under-funded, "high impact" inner-city schools.
This performance is suggested for adult audiences because of the realistic, yet sometimes profane, language of the teen characters.