On July 1, 2000, John H. Feaver became the 12th president of USAO, Oklahoma's only public liberal arts university—a special place where dreams are born, nurtured and realized. Now, 20 years later, he is the longest currently-serving college president in Oklahoma. To celebrate President's Feaver's 20 years of service as president, and lifetime commitment to education, we are asking his friends and everyone in our university family to make a gift of $20 (or more) to the John H. Feaver Student Success Endowment Fund.
Join us in celebrating 20 years of President Feaver's service by sharing your favorite memories of President Feaver and/or gratitude for his service throughout the years.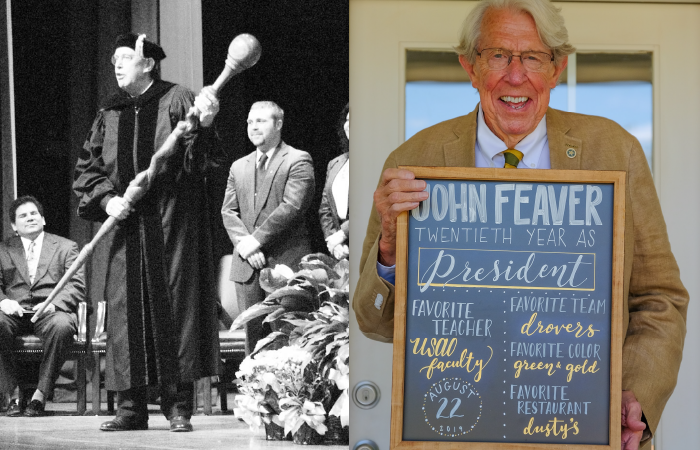 Over the past 20 years, President Feaver has guided USAO through many great successes, including:
The USAO Foundation's assets have grown from $1 million to now approaching $40 million, generating hundreds of thousands of dollars in scholarships for our students.
Our support and commitment for diversity is reflected through our Neill-Wint Center for Neurodiversity and the Dr. Ada Lois Sipuel Fisher Center for Social Justice and Racial Healing.
USAO is listed on the National Register of Historic Places, 14 buildings are listed on the National Register, we are the only college in Oklahoma to have its entire campus listed as an historic district. In 2019, we launched a 25-year masterplan designed to ensure that USAO is able to fulfill its mission as Oklahoma's public liberal arts college well into the future.