Bedroom Farce opens Nov. 7 in Davis Hall Little Theatre
---
October 17, 2014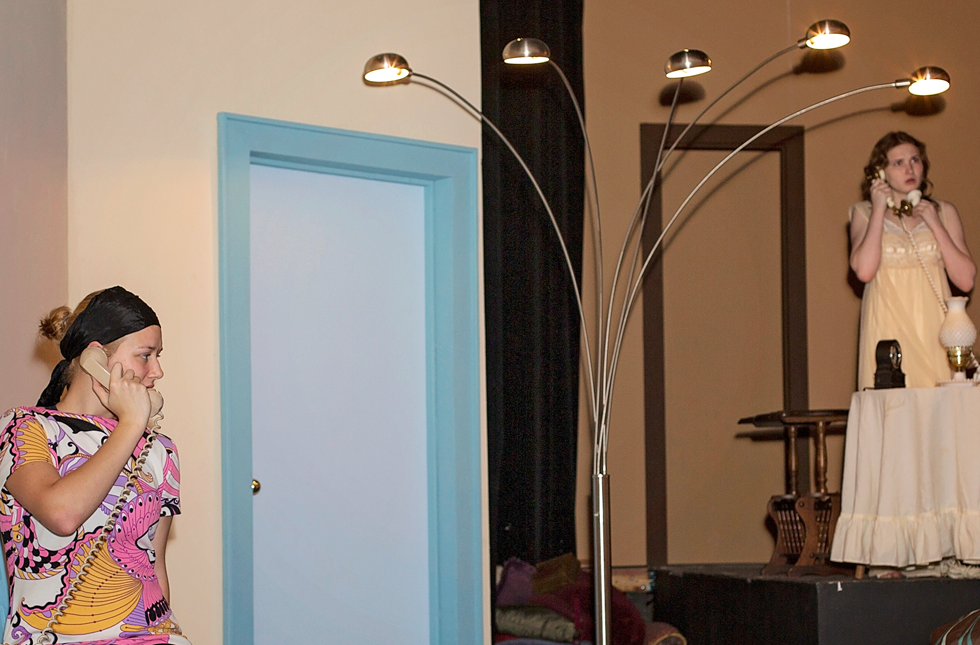 Armed with a new box office and an able cast of performers, the theatre arts department at the University of Science and Arts of Oklahoma is ready to delight campus, community and alumni attendees with its production of Alan Ayckbourn's Bedroom Farce.
The box office for the "vintage" British comedy opens at 7 p.m. on Nov. 7 and 8 in the Davis Hall Little Theater with the curtain going up at 7:30 p.m.

Tickets are $10 for the general public. USAO students, faculty and staff may attend for free.

The two-act play, which coincides with USAO's Alumni homecoming weekend, is also free to paid members of the Alumni Association. Alumni guests may attend for half-price.
Katie Davis, associate professor of theatre arts and production director, described the play's author as "the British Neil Simon."
"Critics are divided on Ayckbourn's place in the theatre canon because his plays are popular and entertaining," Davis said. "He is the second-most produced playwright in British history, second only to Shakespeare."
The play, which debuted in 1978, is a playful but biting examination of marriage. The story focuses on the conflict within and between three married couples attending a housewarming party that descends into a serious of farcical situations.
Davis characterized it as "a comedy about romance that is not a romantic comedy."
"Ayckbourn's work as a whole deals with how we communicate and Bedroom Farce is no exception," Davis said. "In an atmosphere of hot debate about marriage in Oklahoma, it's a fun story that reminds us of the truths about relationships we can all agree on."

The cast is composed of a mixture of department veterans and actors new to the company.
The cast includes: Cord Courtney, a junior theatre arts major from Blanchard; Olen Cox, a 2014 USAO graduate from Hugo with a bachelor of arts degree in music; Corryn Englerth, a junior theatre arts major from Abilene, Texas; Daniella Jimenez, a senior theatre arts major from Newalla; Brandon Nalley, a senior theatre arts major from Duncan; Emma Rose Kraus, a freshman theatre arts major from Tulsa; Ian Shofner, a freshman from Edmond with an undeclared major; and Alicia Working, a senior communication major from Mustang.
Carrie Chavers, adjunct instructor, is the stage designer and Martin Reding, theatre facilities manager, is the technical director.
The Davis Hall Little Theater lobby has been renovated this fall, with a new box office added along with an adjoining play library accessible to students.
The company is poised to stage the golden age Broadway musical Guys and Dolls in conjunction with the university's music department in the spring.

More information about the play can be obtained by calling Davis at 574-1310 or visiting the university's event section online at /events.