Exhibition showcases best in regional art
---
November 14, 2013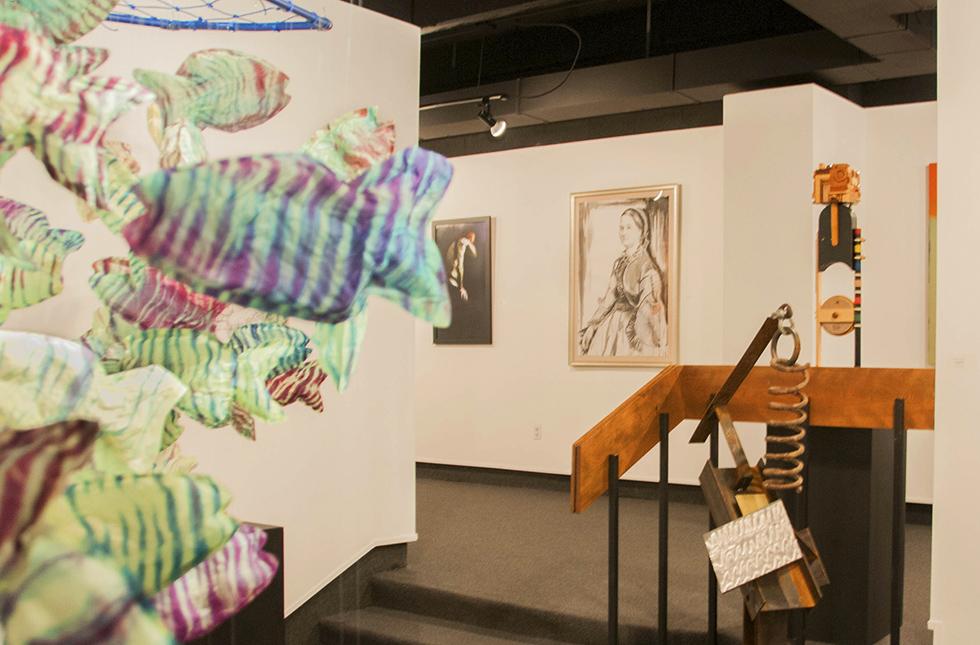 For many, viewing art in a gallery is about the opportunity to experience something exotic, something distant in either location or time. Famous works of art are prized not just because of the technical mastery involved with producing them but also because they capture the essence of what it meant to be in a particular place at a particular time.
By necessity, the masterpieces of tomorrow must be produced in the uncertainty of today.
Those are the works and the artists that Nesbitt Gallery hopes to cultivate in awarding more than $11,000 in prizes every other year for the Seven State Biennial, a highly competitive art competition held at the University of Science and Arts of Oklahoma.
The gallery's director, Layne Thrift, feels confident that this year's show has met that goal.

"This year's Seven State Biennial was the biggest in the show's 13 year history," Thrift said. "We took in just under 300 submissions from over 100 artists. Narrowing down that pool to the 50 works accepted into the show was a real challenge for our juror."
"In the end, we were both satisfied that this Biennial exhibition represents one of the best shows by contemporary artists in this region."
The exhibition of the selected works opened on Oct. 19 with a reception and remains up through Nov. 22.
The show will travel to the Goddard Center in Ardmore on Dec. 3 with a reception scheduled for Dec. 20.
This year's juror was Dr. Mark White, the Eugene B. Adkins and chief curator of the Fred Jones Jr. Museum of Art at the University of Oklahoma.
White specializes in twentieth century American and Native American art with a particular focus on the southwest. With the Seven-State Biennial including work from New Mexico, Texas, Colorado, Kansas, Arkansas, Oklahoma and Missouri, White was uniquely qualified to judge this show.
"The best works in this exhibition provide value by finding inspiration in local and regional geographies, culture and belief systems," White said. "Art, at its most successful, derives its form and content from its surroundings and offers the viewer a new way of seeing and considering the local."
"This is the immeasurable value of the Seven State Biennial, which draws from the rich cultural capital of the region."
White awarded the exhibition's first prize to Liz Roth's Power Point, a detailed yet delicate graphite drawing of a vista overlooking the Grand Canyon. Roth, an associate professor of art at Oklahoma State University, took home $2500 for her submission.
Second place and $1500 went to Oklahoma City resident Noel Torrey for his oil painting, Carcass.
Photographer Jane Iverson, of Edmond, collected $500 for her third place award-winning work High Wire Abstract.
Works garnering an honorable mentions included: Twist by Kim Rice; Chandu Magic Set by Cynthia Marcoux; Remnants by Cynthia Brown; Totemic Scape XV by Douglas Elder; and Mix It Up by Brian Fickett.
In addition to prizes awarded by the juror, the gallery purchased five works for its collection.
"The Seven State Biennial is the outward expression of the gallery's mission which is to curate and collect work from contemporary artists from this region of the country," Thrift said.
Works purchased included: Relativity, a collage in acrylic by celebrated artist Bert Seabourn; The Chickasaw Delegate, an ink drawing in a vintage ledger, by artist and USAO alumnus J. Dylan Cavin; Peyote Bluff Rivers II, a mixed media 3-D piece by Joeallen Gibson Jr.; and Inquisitive, a digitally augmented photograph from recent USAO graduate Megan Check.
The Nesbitt Gallery is open to the public Monday through Friday from 8:30 a.m. to 4:30 p.m. More information about the Seven State Biennial Exhibition can be obtained by calling 574-1374 or by visiting the gallery online.