Fine arts candidates present senior show Flux
---
March 14, 2014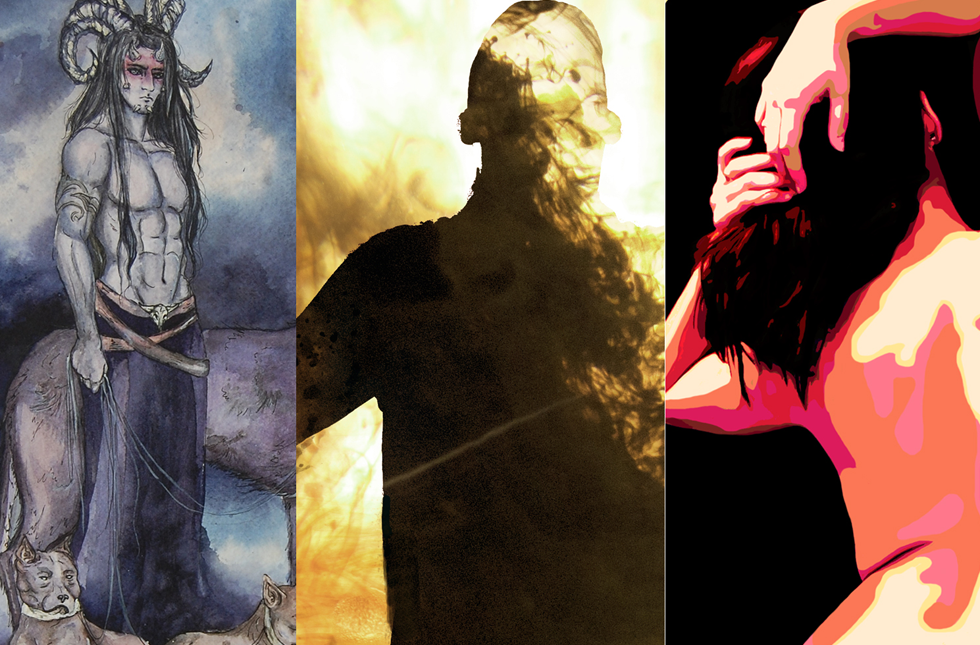 CHICKASHA -- Three graduating art students will exhibit their work in a spring senior bachelor of fine arts show titled Flux.
An opening reception is scheduled to begin at 7 p.m. on March 29 in the Nesbitt Gallery in Davis Hall.
The event is free and open to the public.
The three graduating artists participating in the show are Chett Everson, Jessica Hartzell and Kelsea Mallette.
Everson is a native of Cokato, Minn.
Everson's high school art teacher, Geoff Wells, inspired him to study to be an artist by introducing him to Photoshop, a graphic manipulation program that is an industry standard among photographers and designers.
Everson had aspirations to study at the Minneapolis College of Art and Design but was lured to USAO by his brother, Joshua Everson, an alumnus who graduated in 2010 with a bachelor of science degree in business.
Everson's art combines photography and graphic manipulation to evoke image of space, one of his passions.

"Space and the universe have always interested me," Everson said. "I'm fascinated by the transformation of matter."

Everson's pieces in Flux evoke the wonders of space using some very down to earth tools. Starting from photographs of India ink suspended in water, he manipulates the images in Photoshop until they are almost unrecognizable.

Some of the pieces also contain snippets of other, more concrete images gently molded into them.

In addition to making art, Everson enjoys working on electronics and building computers. He is looking for work in the Oklahoma City Metro area where he plans to move after graduation.
Hartzell spent most of her time growing up around Moore but ended up moving to Germany with her family when she was 14. She also spent some time in Hawaii before joining her sister 2013 USAO graduate Sarah (Hartzell) Job as an art student.
Hartzell combines the technical detail of drawing with the richness of watercolor painting to fuel the rich symbolism of her symbolic works.

"I've always been interested in illustration," Hartzell said. "I'm really a storyteller. I like having heavy lines because it gives me a sense of control. After I've drawn something, I can do anything I want to it and those lines help it maintain structure and meaning."

Hartzell's work in the show are centered on figures but steeped in color and symbolism. Beginning from pencil drawings, she uses multiple color washes, texturing and ink to infuse the personalities that occupy her canvases with a moody surrealism.

Hartzell credits Jacquelyn Knapp, associate professor of art and coordinator of the art department, with giving her the freedom to execute her vision.

"After sophomore review, I decided I wanted to be a drawing major," Hartzell said, "but, I didn't like to draw with pencils and the tools that I thought were specifically for drawing majors. I was talking with Jackie and said, 'I really want to do this drawing but I want to do it in watercolor.' She said, 'Well, go ahead and do it and let's just see where it goes.' My work since kind of stems from that."
After graduation, Hartzell plans to marry her long-time sweetheart and move with him to Houston, Texas, where he will begin his military service. She is confident that the skills that she has gained at USAO will help her secure employment while she develops the contacts necessary to get her work shown in galleries and elsewhere.
Mallette is a graduate of Choctaw High School. For her art was always a family affair.
"My grandmother was an oil painter," Mallette said. "She doesn't paint much anymore but she helped me do my first oil painting when I was in the fourth grade."
Mallette applied to USAO to study math education but after taking a vocational graphic arts course before her freshman year began, she decided to focus, instead, on a career as an artist.
Though her initial strengths were in sculpture and drawing, her studies pushed her in a surprising direction, printmaking.
"I was really excited to take on each new class, to learn the fundamentals of each method," Mallette said. "The only class I dreaded was printmaking, just because I'd heard awful things about it and how hard it was."
Mallette's work in Flux is a combination of photography, graphic design and screen printing with a focus on the human form.
Her process involved shooting photographs of herself using a tripod and then manipulating the images in Photoshop to bring out particular highlights and shadows until they take on a shape of their own.
Mallette then adds color and decorative elements using the principles of design. That composite image is then put through the silk screening process to produce the final work.
She cites the work of artists like Alphonse Mucha and Andy Warhol as well as extensive experimentation as the inspirations for her vision.
Mallette, who works part-time as needed for USAO's Nesbitt Gallery, has been asked to stay on after graduation as its assistant director. She is also applying for an internship with the Fred Jones Jr. Museum of Art at the University of Oklahoma this summer before beginning a master of arts in museum studies program with OU in the fall.
In addition to the graduating students, art alumni Brad Burris, Kerye Hartzell and Katie Jones, who teamed up for a senior BFA show last fall, and April Self, who graduated last summer, will have work displayed as well.
The Nesbitt Gallery will provide cash awards to graduating bachelor of fine arts (BFA) students.
The Bachelor of Fine Arts Award of Merit is presented to the BFA student or students deemed by the USAO art faculty as having excelled overall as an artist in the areas of professionalism, quality of work and conceptual development.
The award is offered annually.
The Nesbitt Gallery will offer a People's Choice Award that will be decided by visitor ballots and announced at noon on April 25 in the main gallery.
More information about the Flux show can be obtained by calling 574-1374 or visiting the Gallery Online.