USAO Alumni Association celebrates 2020 Hall of Fame inductee, Young Alumni Award winner
---
October 13, 2020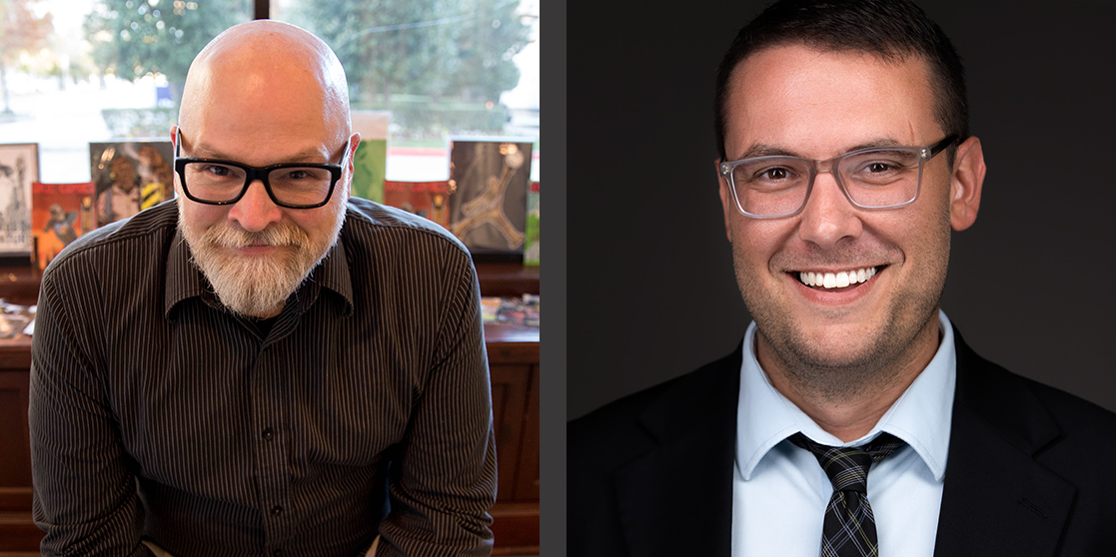 As part of this year's virtual homecoming celebration, the University of Science and Arts of Oklahoma Alumni Association will induct artist Jerry Bennett into their Hall of Fame and present educator Jacob Alexander with the Young Alumni Award during an online awards ceremony Nov. 7 at noon.
"While I'm deeply saddened that we cannot all come together for what is one of the highlights of the year for every Drover, I am excited that we have still found a way to honor Jerry and Jacob!" said Misti McClellan, director of alumni and community relations. "Both of these men exemplify the curiosity, determination, and community-mindedness that has made graduates of this institution stand out from the rest for more than a century. That's what we are here to celebrate!"
Since receiving his BFA in 1993, Bennett has cemented a reputation as the go-to illustrator in Oklahoma. He serves as the Oklahoma Illustrator Coordinator for the Society of Children's Book Writers and Illustrators, and his list of clients includes Lucasfilm, Marvel, Mattel and Dreamworks. In 2018-19, he was selected as the Paseo Arts Association's artist-in-residence at the Skirvin Hilton Hotel, which showcased comic art in a gallery setting and allowed guests to participate in creating comic art. Bennett is currently working on an original comic book "Glamorella's Daughter" with author Charles J. Martin.
Alexander earned his bachelor's in Deaf education in 2014, a master's in 2019 and has continued to add national certifications to his impressive resumé. Currently, he serves as an early development specialist for the Oklahoma School for the Deaf, providing support services for the families of children with hearing loss. Previously, Alexander worked as an interpreter and adjunct instructor at OSU-OKC and as a special education coordinator with the OKC Public School System. Additionally, he served as an interpreter for the Teacher Walk Out in 2018 as well as for Gov. Stitt during recent COVID-19 briefings.
Through a series of online events Nov. 6 and 7, this year's homecoming theme, "Together at Home," celebrates the university's long and illustrious student body at a distance, due to the ongoing coronavirus pandemic. The schedule of events includes campus tours, thought-provoking discussions, athletics events, trivia night, the annual memorial service and more. All events are free of charge, but registration is required. Registrants will receive an email with links to each event in the days leading up to homecoming weekend.
Founded in 1972 with the induction of famed Chickasaw storyteller and Oklahoma College for Women alumna Te Ata Fisher, membership in the Hall of Fame recognizes professional achievement, service to society, honor and distinction brought to the university. It is the highest honor the Alumni Association can bestow on graduates, faculty, administration and staff of the institution. The Young Alumni Award uses the same criteria to recognize students who have attended USAO within the past 15 years.
Born on the afternoon of May 18, 1917, the USAO Alumni Association is a member-driven non-profit organization uniting alumni of the Oklahoma College for Women, Oklahoma College of Liberal Arts and University of Science and Arts of Oklahoma. Anyone who has attended at least one semester at the university is automatically a member of the association, which confers multiple benefits and regular communication on alumni reunions, class projects, programs benefitting current students and more.
For the full schedule of events and to register, visit usao.edu/alumni/engage/homecoming.html.