Welcome to the Drover Family!
We are so happy to welcome new students to their home at USAO. As we approach this exciting weekend, we will be sending emails to your university email account with important information, so be sure to keep an eye out for these emails. If you have any questions along the way, please feel free to reach out to Housing or Admissions.

Move-In Information
Things to note before move-in
Follow the Housing Instagram (@usaohousing) to view residence hall videos, packing lists and other helpful things to know about move-in day.
Check your student email for housing notifications and roommate assignments.
Review the Housing Packing List before purchasing decorations and supplies.
Review all housing contracts in eRezLife.
Things to note on the day of move-in
Upon arrival, enter campus through the north entrance from Grand Ave.

If you have more than one car on move-in day, please only take one car through the check-in line. The student who is moving onto campus must be in the car that goes through the check-in line.

All students will need a form of ID ready at check-in.
*This is a requirement to be checked in and receive keys. It can be a student or government ID.
Bring walking shoes.
We will make sure you know where to go once you get here.
Due to the heat, it will be a drive through check-in process. (There is no need to get out of your car!)
Once your check-in is complete, move-in!!
Sparks Hall Parking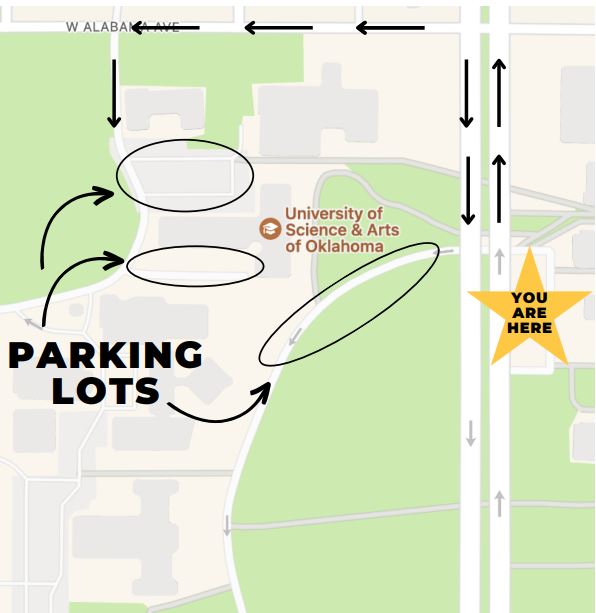 If you live in Sparks, there are two different parking lots where you can unload your stuff. One is located around the Oval and the other is behind Sparks Hall.
Lawson Hall Parking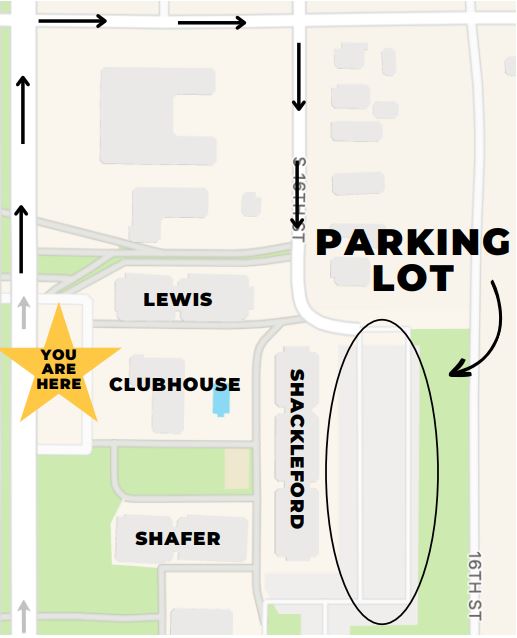 There is one main parking lot for all Lawson residents behind Shackleford. There is also parking along 17th street but it is limited.
Continue to check your USAO email account frequently for Housing and Move-In information.

Packing and Decorating
Moving to campus requires a lot of time and effort. Get ahead with some of our tips below to get ready for the big day.
Pack your belongings in easy to carry and labeled containers.
Keep containers small to medium in size.
Bring a dolly or cart to help make larger loads easier to carry from car to room; (We will have some around campus to help as available.)
Stock up on poster putty, size 3d nails or thumbtacks to hang decorations.
Don't stress. If you forgot anything, Walmart is less than a mile away from campus.
Be patient. Lots of students will be moving in, accompanied by family and friends, so make sure to enjoy this time and getting to know other Drover Family members.
The use of an adhesives for decorations is prohibited (includes: command strips, 3m products, tape, etc.).

Please use size 3d nails and thumbtacks.

Limit door decorations to 20% of the surface area.

Limit wall decorations to 50%of surface area.

Only battery-operated fairy lights are allowed.


Glow in the dark stars, stickers, and decorative adhesives are not allowed.
ROOM
Bedding

Sheets*

Comforter/Duvet*

Blankets

Mattress Pad & Cover*

Pillows & Pillowcases


Decor

Size 3d nails or
thumbtacks

Photos/Poster


Miscellaneous

Surge Protector

Extension Cord

Seasonal Clothing

Hangers

Umbrella/Rain Gear

Flashlight

Mirror

Iron/Ironing Board

Storage Container

Wax Warmer or Oil Diffuser

GENERAL
Drover Card

Insurance Card

Medications

Social Security Card (Employment Purposes)

SCHOOL
Backpack

Notetaking materials (notebooks/pens/pencils/highlighters OR tablet)

Laptop and Charger

Headphones/Ear Buds

Cell Phone and Charger

Desk Lamp

Stapler/Paper Clips/Etc.

CLEANING
All-Purpose Cleaners

Broom

Mop

Vacuum

Trash Can

Trash Bags

Disinfectant Wipes

Toilet Bowl Cleaner

Laundry Bag

Laundry Detergent
(Pods or Liquid)


Dryer Sheets
BATHROOM
General

Towels & Wash Cloths

First Aid

Storage Options

Bathrobe

Shower Caddy

Personal Care Items


Toiletries

Soap

Shampoo/Conditioner

Deodorant

Toothbrush/Toothpaste

DISCUSS W/ROOMMATE
We recommend talking with your roommates to determine who is bringing what for shared spaces so there aren't 2 of the same things.

Television

Coffee Maker

Rug

Microwave
(Sparks/Rob)

Mini Fridge
(Sparks/Rob)

Shower Curtain
(Rob/Lawson)

WHAT IS PROVIDED?
Spark/Robertson

Single Twin XL Bed &Mattress




Dresser




Desk & Chair



Closet


Lawson

Full or Twin XL Bed & Mattress*

Dresser

Desk & Chair

Closet

Kitchen


Microwave

Oven

Stovetop

Dishwasher


Living Room


Table & Chairs

Couch

Chair

Coffee Table

Side Table


All beds have a mattress cover
*Check your USAO email to find out what size mattress you will have
After You've Unpacked
Now that you are on campus, get excited! Get ready for classes by purchasing your textbooks from the USAO Bookstore, along with the latest USAO swag to show your school spirit. Don't forget to get your student ID and parking permit (Troutt Hall 218A) while you explore our beautiful campus! Be sure to plan your schedule from the Welcome Week calendar below!!
Orientation Information
We are excited to welcome all incoming freshman students to campus to participate in USAO Welcome Week!! This is a three-day event free to all freshman students that begins on Friday, August 25 (right after move-in), and runs through Sunday, August 27. The purpose of orientation is to help you successfully transition to the USAO community, get acquainted with campus resources, and find your place in our Drover Family!
Follow the Admissions Instagram (@usaobound) to meet the Orientation Leaders and find out what advice they have for you along with what to expect from Welcome Week! You can also DM our Instagram account to get answers to questions you may have. As the school semester is fast approaching, start getting excited for USAO Welcome Week 2023!
Please see the schedule below for details about what this exciting weekend will entail along with what to expect.
*Note: Transfer students are welcome to join in on USAO Welcome Week, but are not required to.
Move-in Day Meetings:
RESIDENTS: MANDATORY HOUSING MEETING
Date: 08/25/23
Time: 2 pm
Location: Te Ata Auditorium in Troutt Hall

FAMILY MEMBERS: FAMILY ORIENTATION
Date: 08/25/23
Time: 2 PM
Location: Ballroom on the 2nd Floor of the Student Center
Full welcome week Schedule:
Day
Time
Event

Friday,


August 25th

8 a.m. -
2 p.m.

Move In

*

2 p.m. -
3 p.m.

Housing Meeting-

Te

Ata

Auditorium (

Troutt

Hall)*

3:30 p.m. -
4:30 p.m.

Opening Ceremony-

Te

Ata

Auditoriu

m*

+

4:30 p.m. -
5:30 p.m.

First Drove Meeting

*

5:30 p.m. -
7 p.m.

Alumni Dinner- Oval

*

7 p.m. -
8 p.m.

B

reak

8 p.m. -
9 p.m.

Scavenger Hunt

9 p.m. -
10:30 p.m.

Glow Party- Oval

+

Saturday,




August 26th

7 a.m. -
9 a.m.

Breakfast (optional)

9 a.m. -
9:50 a.m.

Learn-a-latte- Oval

10 a.m. -
10:30 a.m.

Morning meeting-

Te

Ata

Auditorium

+

10:30 a.m. -
11 a.m.

Group team building- Oval

11:15 a.m. -
1 p.m.

Lunch

1 p.m. -
3 p.m.

Drove meeting

3 p.m. -
5:30 p.m.

Drover Cool Down- Oval

5:30 p.m. -
6 p.m.

Break

6 p.m. -
8:30 p.m.

Grady County Fair

Sunday,


August 27th

10:30 am -
11 a.m.

Morning Meeting

+

11:15 a.m. -
1 p.m.

Lunch

1 p.m. -
3 p.m.

Drove meeting

3 p.m. -
4 p.m.

Classroom tour

4 p.m. -
5 p.m.

Last drove meeting

5 p.m. -
6 p.m.

Te

Ata Auditorium

6:15 p.m. -
6:30 p.m.

Alma Mater

6:30 p.m. - 7:30 p.m.

Battle of the Boats

&

Ending Ceremony

- Lawson Court

* parents are invited
+ flashing lights present for a short amount of time